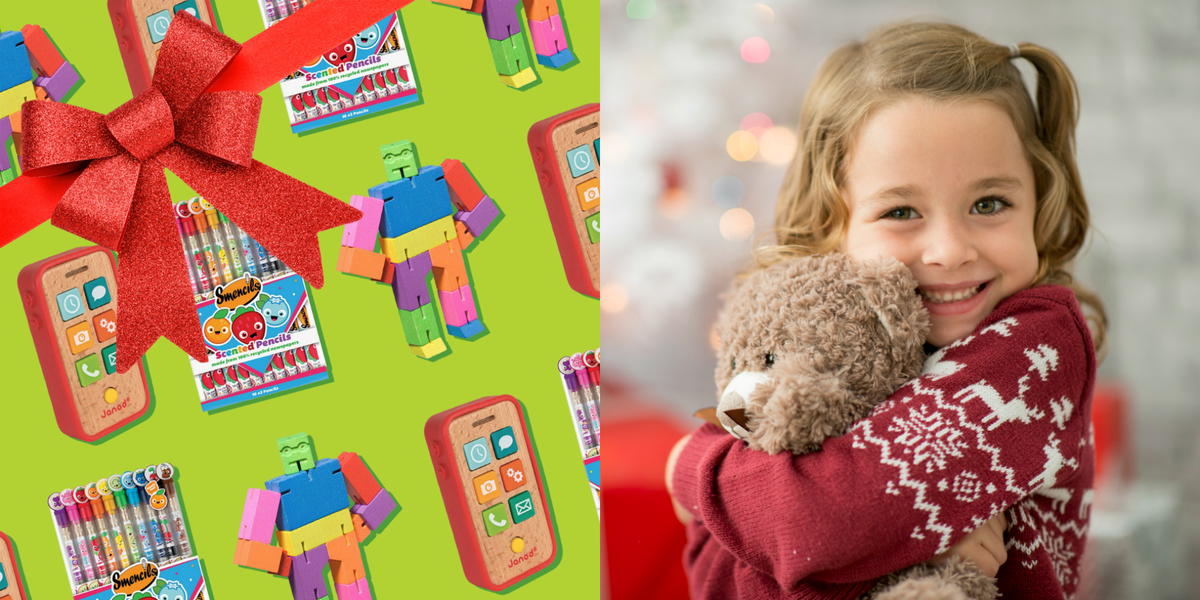 Apart from the requisite candy canes, it's not always obvious what counts as a stocking stuffer. Is is a gift that falls below a certain price point? Does it have something to do with size, i.e. ability to fit inside said stocking? What if you're not a "stocking" kind of family in the first place? Never fear, for this year we've supplied you with a cornucopia of options that will do the trick regardless of how you answered the questions above. Our list of ideas overwhelmingly avoids plastic picks and is instead stocked with stuff that is going to last or, if it's not, won't wind up in a landfill. Treats, games, bath time toys, outdoor activities, brain teasers and beyond: We've thought of everything so you don't have to. Happy shopping!
1 Scentco Graphite Smencils
Scentco
amazon.com
$13.99
We all know about scented markers. But scented pencils are a game-changer that will definitely impress the kids at school. This pre-sharpened 10-pack, made from recycled newspaper, contains a mix of olfactory fun, including bubblegum, grape jelly, and kiwi options.
2 1200+ Stickers
SWARKOL
amazon.com
$7.99
Safe, non-toxic, and easy to peel, this massive pack comes with 1,200 puffy stickers in a variety of super fun designs that include animals, emojis, fruit, dinosaurs, stars, spaceships—we could go on.
3 Sparkly Hair Scrunchies
JOYOYO
amazon.com
$13.86
Sometimes it's the little things that provide the greatest joy, and this set of sequin scrunchies fit that bill. The set comes with 12 in a variety of colors so you can spread them out among kiddos.
4 Fishing Net with Telescopic Pole Handle
ODDSPRO
amazon.com
$16.49
While winter may not be the season for catching seashore crabs, this handy net will be tons of fun for your next summer adventure. Pair it with a future plan for outdoor activities—or just "fishing" in the bathtub.
5 200 Ultra Glow in the Dark Stars
Kangaroo
amazon.com
$14.95
$11.95 (20% off)
Maybe you remember these stars from your own childhood ceiling—trust us, they're still just as cool now. Plus, with 200 stickers in the kit, your kid will be able to decorate the ceiling with as many constellations as they desire.
6 Kicko Marbled Unicorn Color Slime
Kicko
amazon.com
$10.99
Yes, the unicorn craze continues. This non-toxic, non-stick putty is soft, slimy, and suited for ages three and up—not to mention a mesmerizing good time for kids who like tactile toys.
7 Unicorns, Mermaids, and Mad Libs Book
Price Stern Sloan
amazon.com
$4.79
Encourage their creativity (and also their spelling skills) with this Mad-Libs edition for children. If nothing else, they'll get a good giggle out of this one on the car ride to the extended family holiday gathering.
8 96 Glitter Powder Hair Clips
Lurrose
amazon.com
$6.39
Pink, gold, purple, and silver sparkles? You're basically parent of the year. Plus, this pack comes with 96 total pins, so hopefully they'll last until the next holiday season.
9 Superhero Socks
Bradage
amazon.com
$17.85
Put the finishing touches on their everyday superhero disguise with this pack of socks, featuring their iconic characters' symbols and sized for kids between 4 and 6 years old.
10 VTech KidiZoom Camera Pix
VTech
amazon.com
$39.99
$29.82 (25% off)
This kid-friendly camera—which lets them take pictures with fun filters and then upload them via USB (with parental supervision if necessary)—is a great way to encourage a budding analog photographer. The frustration-free, easy-to-open packaging is also another kid-friendly plus.
11 41-Piece Color Pick Up Stick Set
Ridley's
amazon.com
$19.99
If you don't remember this game from your own youth, it's like Jenga but less complicated. (Yes, that's possible.) Simply drop the sticks in a pile and then try and pull them out, one by one, without disturbing the structure.
12 SpeedRipper Cube
CreativeLine
amazon.com
$15.99
$11.99 (25% off)
Another oldie but goodie, this cube—which isn't a Rubix but follows the same principles—is a great way to keep your kid busy and get their strategic problem solving rolling. This version features super smooth sliding movement so no more grinding gears.
13 Lip Smacker Coca-Cola Party Pack Lip Glosses
Lip Smacker
amazon.com
$8.79
Chances are you wouldn't let your kid have unfettered access to soda—but the next time they whine for a Coke, point them in this direction. This fun set of flavored balms have a throwback vibe kiddos will find delightful but also will help them avoid chapped lips this season.
14 Tamagotchi
Tamagotchi
amazon.com
$59.99
$49.99 (17% off)
If you have a kid who is always begging to get a dog, this iconic '90s toy—a "virtual" pet—is terrific training. Also, they might forget they want a living, breathing pup because Tomagotchi is just that entertaining.
15 40 Indoor Snowballs
INDOOR SNOWBALL FIGHT
nordstrom.com
$39.95
Snowball fights outside are fun but require insulated outfits and end with wet clothes—and that's if there's even enough snow on the ground to play with. But these soft fake snowballs, which come 40 to a set, are a solve on all fronts.
16 Water-Based Nail Polish Set
NAILMATIC
nordstrom.com
$19.00
Is your kiddo suddenly very interested in polishing their nails? Delight them with this duo, which is phthalate-, formaldehyde-, toluene- and fragrance-free—and also washes off with soap and water at the end of the day.
17 Sound Telephone
JANOD
nordstrom.com
$14.99
"Where's my phone?" you say, for the umpteenth time, knowing that your kid probably stole it and managed to order a truckload of ice cream on Amazon. Consider this alternative, which has buttons and sounds but doesn't technically count as screen time.
18 Dudley Dragon Stuffed Animal
JELLYCAT
nordstrom.com
$13.75
Plush and squishy, this sweet little guy from an iconic kid's brand is sure to become your child's new favorite snuggle buddy. Plus, he's a dragon, a.k.a. fully equipped to deal with monsters under the bed—they're his pals!
19 Gaiam Kids Yoga Mat
Gaiam
amazon.com
$17.99
If your happy baby wants to do a little happy baby, these non-toxic, non-slip mats are a perfect spot to plunk them while you're in your own downward dog. Pick from a variety of cute prints including robots, dinosaurs, spaceships, and beyond. 
20 Lumi Water Activated Light-Up Sensory Toy
GLO PALS
nordstrom.com
$15.00
Ready to take bath time up a notch? This toy, which glows when it comes into contact with water, should do the trick. BPA- and phthalate-free, it's made from bendable plastic and comes with two additional light-up cubes. 
21 Hello Kitty x Tangle Teezer Compact Styler
Tangle Teezer
sephora.com
$16.00
Combing out snarls has never been this cute. More importantly, this brush is designed to minimize pain—a mission no doubt helped along by the limited edition Hello Kitty graphics. Great for wet or dry hair!
22 DAWAY Waterproof Bike Spoke Lights
DAWAY
amazon.com
$18.99
$10.99 (42% off)
Your kid thinks these LED wheel lights—which are also waterproof, lightweight, and battery-powered—are super cool. You love that the lights make it easier for cars to see your child while they're biking through the neighborhood. And that's what we call a classic win-win.
23 Leather Cord Organizers
Exsect
etsy.com
$5.78
As if keeping their Legos from exploding everywhere wasn't enough of a challenge, today's generation is constantly confronted with tangled tech cords. Except that will never happen again if you supply them with these cool leather accessories. Organization at last!
24 Accoutrements Enchanted Unicorn Bandages
Accoutrements
amazon.com
$12.95
$6.85 (47% off)
Getting a little banged up is a badge of being a kid. Still, something about a cool bandage makes a scrape a little less painful. We love this unicorn design but there are plenty more where those came from. 
25 Areaware Cubebot
Areaware
amazon.com
$18.00
This toy, from a Brooklyn-based design studio, was actually made with adults in mind. But your kid will love how it stretches and moves—not to mention the fun color combinations!
26 Handmade Donut Soap
Bsweetsoap
etsy.com
$6.00
Made with goat's milk and all-natural glycerin, this stocking stuffer comes with just one rule: Donut eat it. Pick from a variety of glazes and sprinkles.
27 Personalized Pencils in a Box
NametapeExpress
etsy.com
$16.46
Now it'll be pretty obvious when someone borrows your kid's pencil and doesn't give it back: This Etsy shop allows you to personalize the color and add text to these high-quality writing utensils, which come in a set of 12.
28 LED Headlamp
BLITZU
amazon.com
$14.99
$11.99 (20% off)
Made specifically for kiddos, these headlamps are awesome for sleepovers, campouts, or bathroom trips in the middle of the night. They're also designed for durability and feature an adjustable strap that extends to fit even adult noggins. 
29 Magic Cabin Woodland Forest Animal Nesting Dolls
Magic Cabin
amazon.com
$22.98
This five-piece set has a woodland creature theme, featuring a bear, fox, owl, rabbit, and mouse. Made from wood, they're sweet to look at and fun to play with too.
30 12 Mermaid Sequin Slap Bracelets
Gardome
amazon.com
$11.29
Because they come a dozen at a time, these slap bracelets are a great gift for distributing to all the kiddos on your list this year—and, for some reason, slapping a bracelet on your wrist just never gets old, so you might want to wear one too.
31 Nutter Butter Santas
HolidayConfections
etsy.com
$19.95
Monitoring sugar intake during the holidays is a laudable endeavor—but when it comes to a kid's stocking, cut 'em some slack. These adorable Nutter Butter cookies, decorated to look like Santa, are a treat in all senses. 
32 Woodland Animals Finger Puppets
FluffyAnimalsShop
etsy.com
$50.50
Made from soft yarn, these ferociously cute finger puppets are not only excellent stocking stuffers but great for encouraging imaginative play on the go—like, for example, during the drive to grandma's house.
33 Duck Feet Slippers
sillykilili
etsy.com
$17.00
These slippers will get a good giggle out of your kiddo and keep their toes warm at the same time. They also have non-skid soles and are available in a range of sizes.
34 Crayola Bathtub Crayons
Crayola
walmart.com
$7.14
Non-toxic and rub-a-dub-dub approved, these cool crayons are perfect for creating works of art on the bathtub tiles and tub walls. (But they also wash off easily so it's really a win for everyone involved!)
35 Munchkin Learn Bath Letters & Numbers
Munchkin
walmart.com
$10.34
Speaking of bath time: Why not use it to work on learning the ABCs? These iconic foam letters and numbers stick to the sides of the wall and then dry out in time for tomorrow's scrub down.
36 Dinosaur Eggs
Jofan
amazon.com
$14.99
Drop one of these dinosaur eggs into a warm bowl of water and, once it hatches, a mini dinosaur will emerge. Then, over the next 24 hours, continue to watch it grow. This set, which comes with 24 eggs, can also be split up into multiple stockings.
37 Wooden Slingshot with Felt Balls
HandcraftedBuffalo
etsy.com
$8.25
We get it—you're thinking, "Why would I want to introduce a slingshot into my house?!" But this toy, which is made from wood and comes with 15 felt balls, is a gentle addition to playtime. Because it's made with quality materials, it will also stick around as a favorite over time.
38 Let It Snow Confetti Poppers
EnFete
etsy.com
$790.76
Yes, you'll probably wind up being the one to sweep up the mess. But the joy on your kiddo's face will be worth it. Plan to order at least one per person.
39 Rainbow Bowling Toy Set
LegacyLearning
etsy.com
$22.19
It might be awhile before your child is big enough to throw a bowling ball down the lane, but get them rolling with this sweet handmade set. It comes with wooden rainbow-colored pins and a small ball.
40 Personalized Truck Ornament
MattyJDesigns
etsy.com
$20.95
We love that this sweet ornament is customized with a child's name and the year it was gifted. It's a memory they will hold onto season after season during tree decoration time.
41 Name Crayons
TheCrayonHouse
etsy.com
$12.97
Kids will be tickled by seeing their name spelled out in crayon form. This gift, which comes in a super cute gift box, is also made from non-toxic materials and ships free.
42 Crochet Unicorn Hat
CrisCrochetShop
etsy.com
$34.32
Made from soft acrylic yarn and customized for head size and age, this crocheted unicorn hat—part of the maker's "winter enchantments" collection—is the right balance of whimsy and warmth. (Pro tip: Check out all the other magical products she creates!)
43 Customized From The Library Of Stamp
PaperAlleyShop
etsy.com
$43.96
Whether your kiddo already has her own little bookshelf or he's just getting started, this custom stamp—which reads "from the library of" and then allows you to add their name—features a maple wood handle and will hopefully last them through the college years.
44 Personalized Harmonica
ScissorMill
etsy.com
$12.50
Quieter and more portable than a drum kit, this pocket instrument is a wonderful way to cultivate your child's musical talents. It can also be customized with their name across the top and features a plastic mouthpiece sandwiched between laser-etched wood.
45 Foldable Space Set
CublesCo
etsy.com
$21.99
"Cubles," as these toys are called, are made of paper and meant for kids who like to work with their hands and figure things out for themselves. Made of strong, sturdy paperboard, they don't require glue or tape to put together and are 100% free of plastic. This trio of Cuble creatures comes with cool accessories like a rocket pack, ray guns, and a mini-robot bud, but there are many cute designs in the Etsy shop.
46 Sea Turtle Paper Lamp Shade
VasiliLights
etsy.com
$74.94
Made from long-lasting, heavy duty paper, this light shade in the shape of a sea turtle is designed for easy assembly—a great DIY for you and your kids. Step-by-step instructions and perforated lines make it clear where and how to fold, and the end result will be something your child loves seeing light up their room. 
47 My First Origami Kit
Tuttle Publishing
amazon.com
$14.95
$10.10 (32% off)
Take it from one who knows: Origami isn't easy. But once your kid gets started building knowledge, they can graduate to all kinds of cool projects. This paperback book is a perfect primer and comes with 60 papers, 150 stickers, and 20 projects to try.
48 Alligator Soap on a Rope
DopeOnARopeSoap
etsy.com
$8.99
We love donut soaps (see above!) but this alligator soap on a rope is just as great: Made with coconut, safflower, and hemp oils as well as soothing essential oil blend, it's the kind of hygiene product that will make your kids get excited about washing their hands.
49 Melissa & Doug Scratch Art Box of Rainbow Mini Notes
Melissa & Doug
amazon.com
$7.99
When your kid draws on this notepad using the included wooden "pen," they scratch away the black surface and reveal a rainbow of colors underneath. Ideal for doodling, desk notes, and drawing in general, the pad comes with 125 total sheets.
50 Custom Shark Lunchbox
MultipleMonograms
etsy.com
$20.70
As if the peanut butter cookies she knows you included in today's sack wasn't exciting enough, this lunch box really ups the ante. It features two insulated compartments including a bottom zipper zone perfect for an ice pack. If you want to add a name to the bag, you also get to pick the font. (And, if she isn't into sharks, there are tons of other fun options in the shop too!)
50 Best Stocking Stuffers for Kids This Holiday Season, Source:https://www.prevention.com/life/g29764662/best-stocking-stuffers-for-kids/
That was 50 Best Stocking Stuffers for Kids This Holiday Season
That Was 50 Best Stocking Stuffers for Kids This Holiday Season, Hopefully it's useful and you like it.
You are reading 50 Best Stocking Stuffers for Kids This Holiday Season,Url address: https://www.dwibcc.org/2019/12/50-best-stocking-stuffers-for-kids-this.html