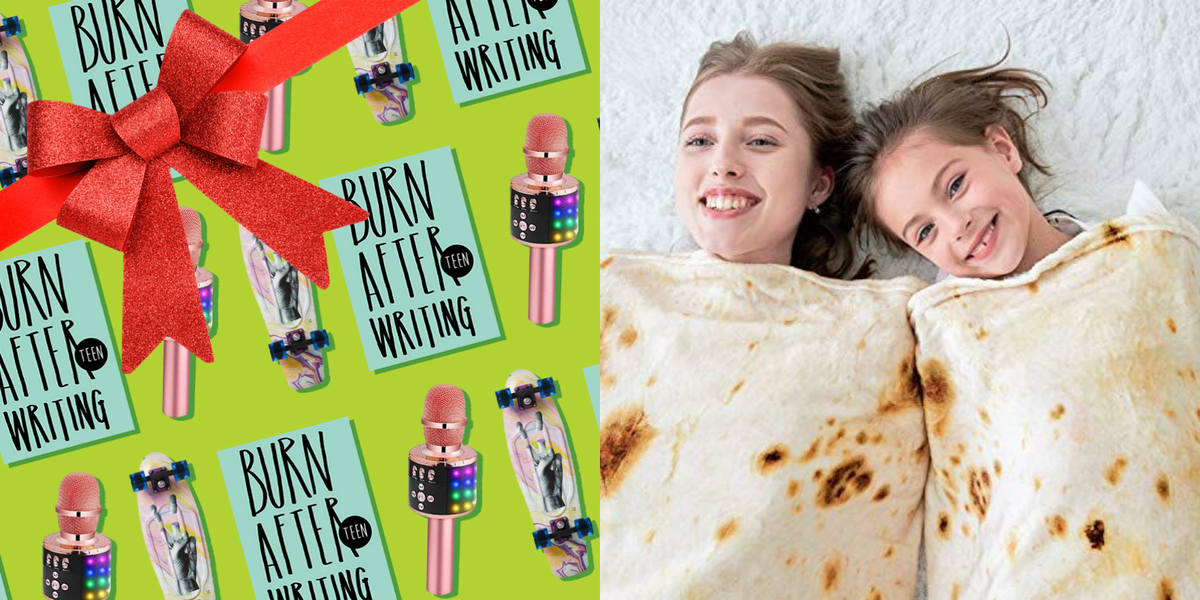 The thing about tweens is that they're literally in between major life eras, a mercurial amalgam of child and young adult. During the holidays, that means they can be tricky to shop for. "Baby-ish" stuff is mostly behind them (with the exception of the stuffed animal they still need at bedtime). But a lot of teenage stuff is still too mature. The solution: Zeroing in on the Venn Diagram overlap zone with shopping, which can be time consuming and frankly stressful. Lucky for you, we've already started the vetting process and are confident the ideas below contain picks that will delight the in-betweener in your life—leaving you with the energy to savor those precious moments while they're technically still kiddos.
1 Lip Smacker Original Flavors Party Pack Lip Gloss Set
Lip Smacker
amazon.com
$8.99
A retro pick you probably remember from your own youth, this Lip Smackers set comes with all the original favorite flavors like tropical punch and cotton candy. It also makes an excellent stocking stuffer!
2 Create Your Own Meme Fridge Magnets
Paladone
amazon.com
$11.99
Being able to make a meme is a valuable professional skill among new generations. Get your tween started early with this set, which comes with 2 sheets of 166 meme font letter magnets. It's just like adding funny captions to your family photos except very 2019.
3 Burrito Blanket
CASOFU
amazon.com
$24.80
Made from soft fleece, this blanket comes in a range of diameters and will also make your kid look like a human-size burrito when they cozy up beneath it. Also available in waffle print!
4 Phone Camera Lens Kit
Mikikin
amazon.com
$29.99
Screen time is inevitable, but you will see their phone photography game reach new heights with this cool lens, which transforms a smartphone into a camera capable of telephoto, high def, and fisheye, and wide angle shots. Rad, right?
5 Kids Against Maturity: Card Game for Kids
Kids Against Maturity
amazon.com
$29.99
This card game is literally the age-appropriate answer to Cards Against Humanity. It follows the same easy playing structure and is destined to kick family game night into high-gear. Be prepared for fart jokes and an inability to stop giggling for hours.
6 National Geographic Mega Slime Kit & Putty Lab
NATIONAL GEOGRAPHIC
amazon.com
$29.99
In case you missed this tidbit, slime is trending these days. Empower tweens to create their own with this non-toxic kit, which comes with storage tins, accessories for a complete lab kit, and all the ingredients they'll need to concoct eight different types of slime and putty—including glow-in-the-dark, snot, and color-changing varieties—plus a booklet that explains the science.
7 Rose Gold Light Box
My Cinema Lightbox
amazon.com
$19.99
This lightbox—which is backlit with LEDs and runs on AA batteries or USB—fits nine tiles across each row and comes with 100 letters, numbers, and emoji tiles to slide right in. Translation: Countless combinations for your tween to create!
8 30 Rolls of Gold Foil Washi Tape
AfaTAPE
amazon.com
$19.99
$13.99 (30% off)
If you can't stop your kid from taping things to the walls, then you might as well give them the tools to make it pretty without damaging the paint. This 30-pack of Washi tape rolls, all of which feature cute prints and illustrations, is just kitschy enough to be super cool.
9 WeSkate B3 Scooter for Kids with LED Light Up Wheels
WeSkate
amazon.com
$40.99
They'll be thrilled because the lights look cool. You'll be thrilled because the lights make your kid easier to see when they're scooting down the sidewalk at dusk. It's also height adjustable, folds up for storage, and features safety brakes.
10 Code Your Own Games!: 20 Games to Create with Scratch
Sterling Publications Co
amazon.com
$12.95
$9.48 (27% off)
Can't keep your kid away from computer games? Then it may be time to broaden their horizons but helping them learn how to code their own. This hardcover book relies on free, MIT-developed software called Scratch and will show your tween how to create and build their own games.
11 Personalized Name Necklace
CentimeGift
etsy.com
$37.60
Your tween is probably too young to connect this to Carrie Bradshaw—even so, they'll love this dainty, personalized gift. You choose the material, chain length, and supply up to 12 characters.
12 Animal Face Masks
Look At Me
amazon.com
$18.99
No doubt your tween has the skin of, um, a child, which means they are a long time away from concerning themselves with skin troubles. But these cute sheet masks, which feature illustrations of adorable animals, are more for fun than anything. So we say: Let them have at it! 
13 The Crew Furniture Classic Video Rocker Gaming Chair
The Crew Furniture®
walmart.com
$35.00
Here's the thing: You're not going to be able to keep them from playing video games. But you can at least provide them with ergonomic seating, which is a feature of this fun rocker chair.
14 Sleeping Fox Cross-body Bag
Tom Clovers
amazon.com
$26.99
So what if she's carrying around nothing more than an iPod and a pack of chewing gum? This purse is cute as all get out and the shoulder strap makes it perfect for toting essentials, like lip balm, around.
15 Penny Australia Complete Skateboard
Penny Australia
amazon.com
$129.00
If your tween has graduated from their scooter and is ready for something new to test their balance, this 27" penny skateboard should do the trick. Plus is has a cool design on the bottom that'll impress their buds—which means you get extra parent present points.
16 Gold Stars Hanging Photo Display
Mkono
amazon.com
$12.99
"OMG cutttteeee" —what all your tween's friends are going to say when they see this photo display situation hanging in her bedroom. (Also file under: preferable to her sticking tape to the walls.) 
17 Aomekie Telescope for Kids
AOMEKIE
amazon.com
$39.99
Swap screen time for start-gazing time with this telescope created with kids in mind. The high-powered lens is easy to focus in on constellations and even clearly glimpse the surface of the moon. It's also easy to assemble and was designed with safety in mind—nothing sharp or toxic to see here folks, just a budding astronomy obsession.
18 Ultralight Mini Belt Bag
PATAGONIA
nordstrom.com
$29.00
Yes, fanny packs are also cool again. Whether they wear it hiking, to class, or to the mall with friends (hahaha malls!) it's a handy way to keep the phone in reach that also happens to be super trendy right now.
19 Tulip One-step Tie-Dye Kit: Super Big 12 Colors
Tulip One-step Tie-Dye
amazon.com
$17.95
Everything old is new again also applies to tie-dye. This easy, one-step kit is perfect for slumber parties but also for turning all of their white socks into a fashion statement. Nice one, mom.
20 National Geographic Hobby Rock Tumbler Kit
NATIONAL GEOGRAPHIC
amazon.com
$59.99
Crystals are super trendy these days, and now you can give your kid the gear to make their own polished stones and even turn them into jewelry. This kit comes with rough gemstones, four polishing grits, jewelry hardware, a rock tumbler, and a detailed how-to guide.
21 540 Piece 3D Jigsaw Puzzle Ball
Ravensburger
amazon.com
$69.99
There are puzzles and then there are Puzzles—and this one, which builds toward a three-dimensional globe—is definitely the latter. Added bonus: It's also a geography lesson in disguise!
22 JBL Clip 2 Waterproof Portable Bluetooth Speaker
JBL
amazon.com
$41.98
Ideal for hooking onto their backpack but not so loud you'll be cursing yourself for buying it later, this waterproof speaker syncs with bluetooth and will absolutely be the talk of the fifth grade when school is back in session.
23 40 Mini Squishies
MOMOTOYS
amazon.com
$27.99
$17.99 (36% off)
Have you heard of the term "cute aggression"? It's the reason we want to squeeze things we think are adorable, which is the best part about these squishy Japanese toy set, which comes with a variety of pudgy little animals your daughter can poke and pinch to heart's desire. Did we mention your kid's friends are going to be super impressed by your present prowess?
24 Burn After Writing Teen Journal
imusti
amazon.com
$13.46
We're not encouraging pyromania: The point of this journal, which contains writing prompts that meant to help your kid tap into their inner thoughts and experiences, is that it's a analog safe space for them to let it all out.
25 162 Piece Painting & Drawing Set
US Art Supply
amazon.com
$44.96
Organized in a beautiful wood box, this mega kit comes with everything your tween needs to express their creative self on paper or canvas. The set includes colored pencils, oil pastels, watercolor cakes, wax crayons, mixing trays, drawing pencils, paint brushes, sketch and painting notebooks and additional supplies.
26 Facial Cleansing Brush
FOREO
amazon.com
$118.15
Especially for your slightly older tweens, boys and girls alike, establishing a facial care routine before acne begins to strike is a good move. This vibrating, silicon brush with sonic cleansing gently removes dirt and grime. A couple years from now, trust us—they'll thank you.
27 500-Piece Rainbow Popsicles Puzzle
Mudpuppy
amazon.com
$13.27
It may not be 3D, but this 500 piece puzzle is something fun to leave out on the dining room table and work on together a little at a time. Plus, when you finish, you can always put it in a frame on your tween's bedroom wall—it's pretty enough to become decor!
28 Wireless Bluetooth Karaoke Microphone
BONAOK
amazon.com
$69.99
$31.99 (54% off)
James Corden's "Carpool Karaoke" might air after their bedtimes but that doesn't mean your tween can't get in on the action. This light-up LED mic is a speaker as well as a recorder, easy to use, and syncs with bluetooth that allows you to select the song. It also comes with a rechargeable, long-lasting battery—ideal for long ballads.
29 4M Table Top Robot
4M
amazon.com
$15.99
$9.87 (38% off)
"What are the kids up to today?" your mom wants to know. "Oh, the usual—just building a steam-powered robot," you reply, feeling smug about giving your tween a gift that's also developing their STEM skills. This hands-on kit teaches the basics of robotics through a step-by-step process that ends with a mini-machine that scuttles and changes direction when it bumps into something. Everything you need, minus one AAA battery, is in the kit!
30 RoWood Mechanical Gear Vitascope
RoWood
amazon.com
$49.99
There is a lot packed into this very cool present. Made from natural laser-cut wood, it's a 3D puzzle that, once completed, is a functional film projector—as in like movie film that you hand crank to play on the wall. Everything you need to complete this project comes with the kit, which assembles in about six hours with the straightforward manual.
31 Hydro Flask 12-oz. Kids Water Bottle
Hydro Flask
amazon.com
$29.95
BPA and phalate-free? Check. Leak-proof lid with sipping straw that prevents spills? Check. Cool color combinations? Check. Sounds like we've got ourselves a pretty stellar stocking stuffer here.
32 Water Bottle Sticker Set
Beauth
amazon.com
$6.99
This present is a two-fer: Your kid will be psyched to decorate their water bottle with fun vinyl stickers  and their designs will also help set it apart from all the other ones floating around at soccer practice. Plus, the set comes with 30 stickers, which can also be used on suitcases, phones, and other surfaces.
33 Vans Kids Classic Slip-on
Vans
amazon.com
$88.81
These classic checkered shoes from an iconic skate brand are comfortable, well-made, and trendy. But they also solve for untied sneaker laces—and that, dear shopper, is priceless.
34 Gravity Maze Marble Run Logic Game
Think Fun
amazon.com
$29.95
A bestseller and Toy of the Year Winner, this hands-on toy challenges critical thinking skills as well as spatial reasoning—but it's so fun that the educational element won't register. Intended for ages eight and up, it comes with 60 construction challenges, ranging from beginner to expert. The goal: To create a structure that uses gravity to move marbles along the path.
35 The Complete Cookbook for Young Chefs
amazon.com
$19.99
$10.99 (45% off)
Whether you're trying to spark their interest in kitchen participation or your tween is already on their way to becoming a chef, this book digs into the basics and helps them build knowledge as well as a recipe repertoire.
36 LED Night Lighting Lamp
Elecstars
amazon.com
$39.99
$16.99 (58% off)
Ideal for indoor star-gazing, this night-light projects the cosmos onto your kid's wall with the touch of a button. It can also be set to dim for sleep-mode, doubling as a night-light. Power it up with batteries or USB! 
37 SmartLab Toys All-Natural Lip Balm Boutique
The Quarto Group
amazon.com
$10.87
You know what they say: Buy a tween a lip balm and they'll lose it in a week. Teach a tween how to make their own lip balm and they may still lose it but they'll be really proud of themselves in the meantime. This kit, which uses all-natural ingredients, is also a great way to introduce applied chemistry into their everyday thinking; it also comes with different molds, stickers, and enough ingredients to make at least six balms.
38 Fujifilm Instax Mini 9 Instant Camera
Fujifilm
amazon.com
$69.00
$53.65 (22% off)
Yes, kids still stick pictures on the insides of their lockers—that is, when they have them printed out, which your tween will once they get going with this camera. It's like instant gratification without Instagram. Don't forget to include lots of film in her stocking!
39 Personalized Leather Wallet
GoldenGator
etsy.com
$43.90
By now, they probably get some kind of allowance—and that means they'll need somewhere safe to put it. This wallet, which can be personalized with a name and icon, is a perfect fit!
40 Mahogany Ukulele
Donner
amazon.com
$59.99
Playing an instrument is good for the brain and will also make your kid a star at future campfire singalongs. The ukulele, with its soft tones, is a good string instrument to start with in terms of both skill requirements and quality of life for all in earshot.
These Top Gifts for Tweens With Get Them Off Their Phones, Source:https://www.prevention.com/life/g29614755/best-gifts-for-tweens/
That was These Top Gifts for Tweens With Get Them Off Their Phones
That Was These Top Gifts for Tweens With Get Them Off Their Phones, Hopefully it's useful and you like it.
You are reading These Top Gifts for Tweens With Get Them Off Their Phones,Url address: https://www.dwibcc.org/2019/10/these-top-gifts-for-tweens-with-get.html