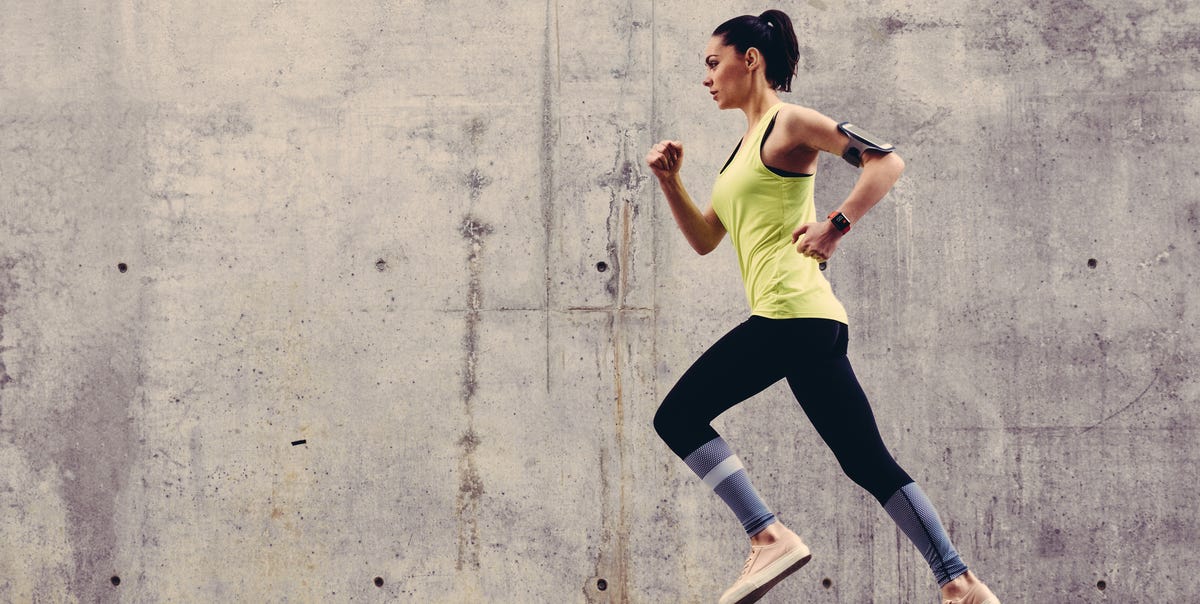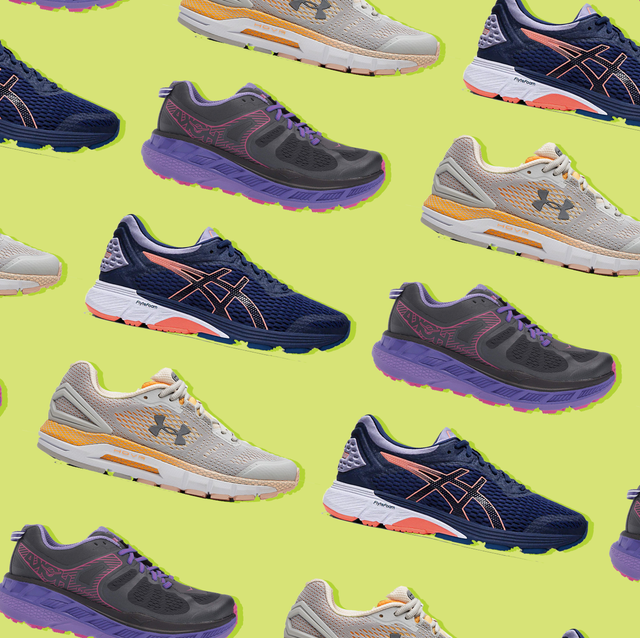 Zappos/Under Armour/ASICS
Choosing the perfect pair of running shoes takes some trial and error. Whether you're a neutral runner or a pronator (a.k.a. your foot rolls in when you run), finding sneakers that'll keep you comfortable through miles and miles requires lacing up and hitting the road for a test run. But for those with flat feet, picking the right pair means following a few rules for support. Let's break it down:
What does it mean to have flat feet?
If you have flat feet, it means your heel lies at an outward angle, the arches have collapsed, and the forefoot or toes rotate outward, says John G. Kennedy, M.D., chief of foot and ankle surgery at NYU Langone Health. "This reduces the ability of the foot to absorb shock, either with a heel strike or a midfoot strike, resulting in an increased risk of injury," he adds.
Flat feet can also cause instability of the foot bones, which then puts more stress on ligaments, tendons, and muscles, says Scott Spencer, D.P.M., associate professor at Kent State University College of Podiatric Medicine. "These structures try to stabilize the foot, and as a result, they can get injured or damaged in the process," he says. "One thing to keep in mind is that having flat feet isn't necessarily bad. There are many people with flat feet that have no problems at all."
If you have flat feet and experience discomfort, it might show up in the form of shin splints, pain in the posterior tibial tendon (or the tendon behind the shin bone that supports the arch), Achilles tendonitis, plantar fasciitis, midfoot arthritis, or ankle or knee joint conditions, according to Dr. Kennedy and Dr. Spencer.
How to choose the best running shoes for flat feet
Dr. Kennedy suggests adding an orthotic insert to your running shoes—and talking to a podiatrist—to help keep your stride comfy. Stability shoes, designed for those who overpronate, also help alleviate the risk of injuries or pain. A few things Dr. Kennedy says to look for in a running shoe for flat feet:

A well-cushioned arch
Support under the forefoot
A strong, supportive heel to hold the foot in place
A wide toe box, as most of the push-off comes from the big and second toe
"Selecting a shoe for a runner with flat feet is not a simple formula," Dr. Kennedy says. "It requires time and experience to figure out a good fit and to know what can reduce the mechanical loads that cause symptoms."
A shoe store—or one dedicated to running—with experienced workers is your best bet for finding a shoe that really fits. Most places will even let you jog around in it for trial run to make sure you have the right size, says Dr. Spencer, who warns not to skimp on a good pair of running shoes. "The materials in the shoe are extremely important for promoting good foot function and for dealing with the increased forces runners put on their feet," he says.
Pro tip: It's best to try shoes on at the end of the day when your legs and feet are swollen. Need a place to start testing your stride? Try these top running shoes.
1
Best Overall
Adrenaline GTS 19 Running Shoes
Brooks
zappos.com
$99.95
Designed with Brooks's GuideRails technology, these running shoes are meant to keep runners from deviating from their natural stride, protecting the joints. So even though you're feeling tired during those last few miles, these shoes will help keep your form strong. These shoes are perfect for people with flat feet because they also feature dense midsole cushioning to prevent pronation. In addition to the support, you're getting plenty of bounce-back. 
"This shoe seems to be the best fit for my foot. I have a wide foot to begin with and a bunion on my left great toe. The wide toe box, the smooth surface on the inside of the top of the shoe, and the placement of the eyelets all help prevent my bunion from being rubbed," a Zappos reviewer writes. 
2
Best Value
SolarGlide ST Running Shoes
Adidas
jackrabbit.com
$69.97
If you want to feel like you're running on clouds, slip into these Adidas sneaks. The outsole has a soft, seriously springy feel for a smooth ride, with comfy cushioning under the arch of the foot and extra medial support along the inside of the shoe—a bonus for flat-footed runners. The unique heel cup also holds your foot in place while allowing the Achilles to move freely.
"It is my first pair of Adidas shoes and I couldn't be more impressed. My favorite part is the roomy toe box. It's not too spacious at all but gives me plenty of room while being comfortably snug," a Jack Rabbit customer says. 
3
Best for Trail Runners
Stinson ATR 5 Running Shoes
Hoka One One
zappos.com
$159.95
The lightweight cushioning and stable design on these Hoka running shoes definitely stand out from the sneaker crowd. Though the toe box is a little narrower than other editions of this shoe, you still get a roomy feel thanks to the space in the midsole and a breathable mesh material in the upper. If you're taking your training to other terrain, like slick roads or light trails, you'll also love this shoe for its lugs, which provide extra traction. 
A Zappos customer who has plantar fasciitis and a collapsed metatarsal arch raves about the cushioning in these shoes: "Feels like I'm walking on memory foam. I bought a half size larger than I normally wear and they fit well."
4
Best Shoes With Biofeedback
UA HOVR™ Guardian Running Shoes
Under Armour
underarmour.com
$120.00
This new shoe is one of the newest in UA's connected footwear line. It syncs up with your MapMyFitness app via Bluetooth to give you feedback after every run, including info on your gait, stride length, and pace—which all help you become a more efficient runner. The shoe's design also helps prevent overpronation, thanks to medial posts and guides that offer extra support. They also have an EVA midsole for cushioning and energy efficiency, in addition to the heel counter that keeps your foot locked into place. 
"These shoes are extremely comfortable and lightweight," a UA customer says. "They feel like they're almost physically 'pushing' me to add extra speed," she says. Another reviewer writes, "I have wide feet and need stability to prevent shin splints, and these were perfect!"
5 GT-4000 Running Shoes
ASICS
asics.com
$130.00
As a motion control shoe in the ASICS line-up, this pair is practically made for flat feet. Like other ASICS's running shoes, these kicks feature their signature gel technology that gives you supportive cushioning and ample rebound with every step, making each run feel lighter. But you still get a stable underfoot. In other words, if your feet tend to roll inward on the road, these shoes are there to protect your feet and legs. A customer says: "Very comfortable fit, and no need for orthotics with this shoe for my problem feet. Well worth the extra money."

6 Guide ISO 2 Running Shoes
Saucony
zappos.com
$89.95
Built for runners who overpronate, these running shoes give the structure and support you need, while still offering a comfortable fit. Saucony's ISOFIT technology also allows the shoe to adapt to the shape and motion of your feet, supporting your natural stride. Plus, these shoes offer superior bounce-back, so you feel an extra spring in your step, along with an upper construction that moves with your foot.

"I ran 3.5 miles on these shoes and I have plantar fasciitis. Felt no pain, no discomfort. I forgot I had them on," a Zappos customer says. "A great purchase for the comfort and stability I need when running on the road or treadmill," another reviewer says.
7 Zoom Winflo 6 Running Shoes
Nike
zappos.com
$90.00
The stabilizing crash rails along the sides of these running shoes make them a great pick for people with flat feet. They also have EVA padding in the underfoot for a soft heel-to-toe landing, and flex grooves on the outsoles to provide traction and grip for rainy runs. Zappos customers love the responsiveness in these shoes. "Comfortable, not too heavy and good responsiveness. I felt very supported in the midfoot. I was able to run my fastest mile in many years in these shoes," a reviewer writes. 
8 Ravenna 10 Running Shoes
Brooks
zappos.com
$109.95
Brooks makes it on this list for the second time with this version of the Ravenna. While these kicks have Brooks's signature GuideRails technology and DNA midsole, what makes this pair stand out is the rigid material in the shank, which helps keep your foot in place while in motion. They also have medial posts to help with preventing pronation and promoting smoother transitions between strides. 
"I have been wearing the Brooks Ravenna style for years. I normally insert a Vionic arch support, but so far I don't have to with this one. The arch support is definitely increased yet still very comfortable," a Zappos customer says. 
9 Wave Inspire 15 Running Shoes
Mizuno
zappos.com
$129.95
Each stride will feel smoother and faster with these Mizuno sneakers, thanks to the responsive molded foam insole and the stabilizing strobel board, a.k.a. the piece of fabric in the insole that's connected to the upper. A Zappos customer says, "It has really helped with my over-pronation and my feet being so flat footed. I use them for walking and being on my feet for four to five hours, and they're holding up like champs! Great purchase!"

10 Fresh Foam Vongo v3 Running Shoes
New Balance
zappos.com
$125.00
For a pair of running shoes that have a breathable sock-like fit, these kicks nail it. The perforated overlay and lace-up closure lend these shoes a seamless and flexible design, while the plush foam midsole helps stabilize your feet and prevents them from rolling. And if you prefer to use your own orthotics, the insoles are removable. They also come in medium and wide widths. 
Zappos customers love the support and cushioning they provide. One reviewer says, "I am seven months pregnant and found these shoes to be exactly what I need to get through my last trimester." Another customer writes, "I have terrible plantar fasciitis and severely overpronate, and these shoes have been great for me. Fit true to size."
These Podiatrist-Approved Running Shoes Provide Support for Flat Feet, Source:https://www.prevention.com/fitness/workout-clothes-gear/g26328202/best-running-shoes-for-flat-feet/
That was These Podiatrist-Approved Running Shoes Provide Support for Flat Feet
That Was These Podiatrist-Approved Running Shoes Provide Support for Flat Feet, Hopefully it's useful and you like it.
You are reading These Podiatrist-Approved Running Shoes Provide Support for Flat Feet,Url address: https://www.dwibcc.org/2019/10/these-podiatrist-approved-running-shoes.html