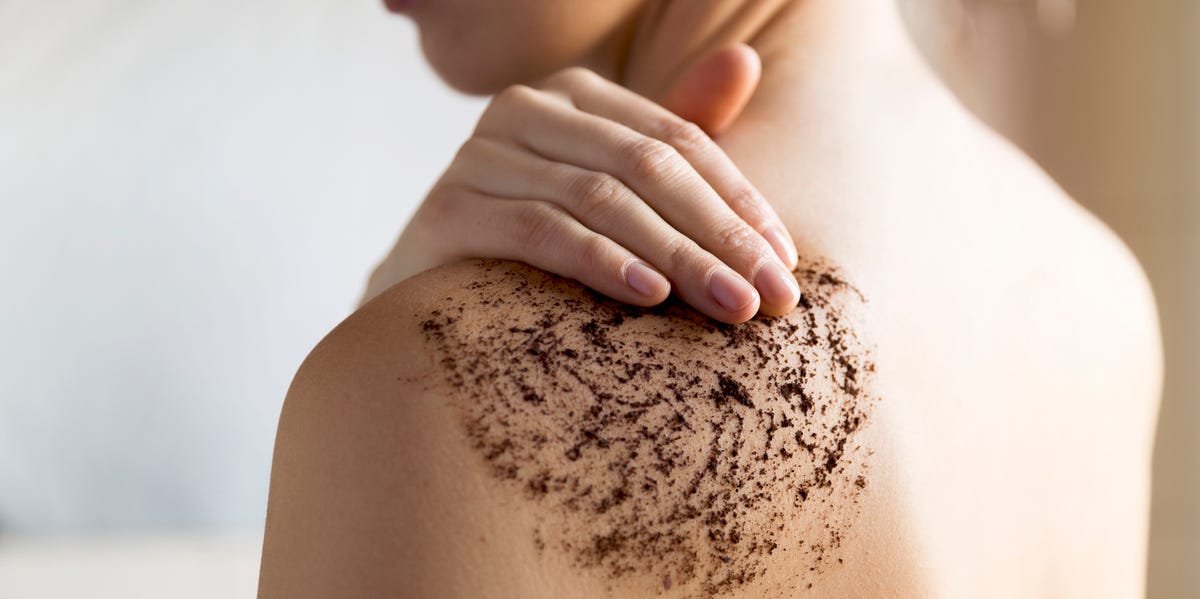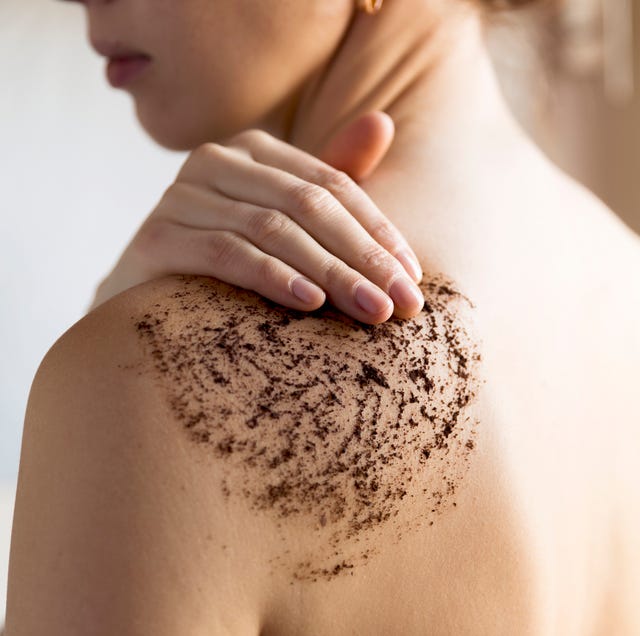 artursfotoGetty Images
Cold weather and your skin don't exactly have the best relationship. The second windburn and snow settle in, your body takes a pretty big hit. That's why it's important to take action now. One of the best tools you can use to help bring dry skin back to its normal state is to grab a body scrub.
Body lotion is a must, but getting rid of dry, flaky patches with a body scrub helps heal your skin on another level. You just have to make sure you do it with care to avoid going overboard, making matters worse. "Physical exfoliation can buff away dry skin patches caused by winter air and dramatically change skin texture. However, overusing body scrubs can make your skin far too raw and weaken your skin's protective layer," says Dendy Engelman, M.D., a board-certified dermatologist based in New York City. "Over-exfoliation strips the skin from its natural oils and nutrients, causing overall dryness and irritation."
How to choose the best body scrub
So, how do you use body scrub to buff the dead skin away without causing any redness or more dryness? There are a variety of ways. Dr. Engelman prefers using chemical "scrubs" that contain glycolic, lactic, or salicylic acid over physical scrubs. She says these chemical scrubs help "exfoliate the top layers of the stratum corneum, aka the outermost layer of the skin, in an effective way without risking injury to the skin, which can occur with aggressive scrubbing from formulations containing scrubbing particles."
Roberta Del Campo, M.D., a board-certified dermatologist based in Miami, FL, likes physical scrubs, but she goes the microscrub route. Microscrubs keep your skin happy with "small particles that are less abrasive, gently removing dead skin while leaving the healthy skin barrier intact," she says. Whichever method you use, you don't need a lot: Dr. Engelman recommends using only a cherry-size amount on each part of your body. Another important factor? Making sure you're using the best scrub for you individual skin type. Here are the best ones to start with.
Advertisement - Continue Reading Below
1
Best Overall
Mint Sea Polish
French Girl Organics
anthropologie.com
$40.00
According to Dr. Engelman, body scrubs were basically made for those with oily skin types. "Some people think that the way to combat oily skin is to exfoliate and find a way to remove all the oil. That's a mistake because it will force your oil glands to produce more," she says. Instead, anyone with oily skin should use this body scrub, which has natural exfoliants, like sugar and white sea salt, to remove dry patches and coconut oil to re-hydrate. "It helps break up impurities without stripping away the oil. French Girl Mint Sea Polish naturally buffs skin and leaves the skin hydrated," she says.  
2
Best Value
Body Clear Acne Body Scrub
Neutrogena
walmart.com
$6.47
This acne-fighting body scrub is made with salicylic acid—a gentle exfoliator—to deep-clean pores and remove dead skin cells. Just add a drop to your loofah, and the scrub will turn into a foaming lather. This body scrub also features jojoba esters, flower extract, and camellia leaf extract to moisturize your skin and help protect the skin's natural oil barriers. 
3
Rave Reviews
Shea Sugar Body Scrub
Tree Hut
amazon.com
$18.22
Safflower, avocado, sweet almond, macadamia seed, and orange oils come together in this sweet, citrus-scented body scrub to re-hydrate and transform dull skin to a healthy glow. Sugar gently buffs skin to banish dry flakes, while shea butter adds another layer of moisture. Amazon reviewers rave that this body scrub leaves their skin feeling ultra soft and love that it's also paraben-free.
4
Best for Aging Skin
KP Duty Dermatologist Formulated Body Scrub
DERMAdoctor
dermstore.com
$50.00
If you have aging skin, the best route for your body scrub is a chemical exfoliant, says Dr. Engelman. And this one is a must-try. Using alpha hydroxy acids, green tea, and willow extracts, as well as skin-smoothing beads, it will help you buff away any dry skin, getting your glow back once again. Just don't use it on areas of your body with sensitive skin, as it might be a little too harsh.
5
Best for Oily, Acne-Prone Skin
Acne Face & Body Scrub
Peter Thomas Roth
amazon.com
$32.00
Another way to get rid of dryness if you have oily (or acne-prone!) skin is to get a scrub that contains a hydroxy acid, like glycolic or salicylic acid, Dr. Del Campo says. "My personal favorite is Peter Thomas Roth Acne Face & Body Scrub, as it contains both salicylic and lactic acid but is also gentle enough to decrease inflammation in the skin," she says. This body also has ultra-fine jojoba beads that work to unclog pores, and aloe vera to help calm redness and irritation. 
6
Best for Combination Skin
Micro-Exfoliating Scrub
SkinCeuticals
dermstore.com
$31.00
You know those less-abrasive small particles Dr. Del Campo was talking about? They work especially well for those with combination skin. "I always recommend something balanced and gentle. My favorite all-around scrub is the SkinCeuticals Micro-Exfoliating Scrub," she says. It contains diatomaceous earth microbeads to exfoliate without irritating skin, and aloe vera and citrus oils to help calm and brighten your complexion. 
Dr. Engelman says that people with this skin type should apply a variety of products to treat different areas: "I like to recommend applying oily skin products to the T-zone and dry skin products to the other area of the face, which gives a much more customized approach to skin care."
7
Best for Sensitive Skin
Hydra Life Time to Glow Ultra Fine Exfoliating Powder
Dior
nordstrom.com
$45.00
Since your skin is already irritated, going overboard could just make things worse. That's why Dr. Del Campo swears by Dior's Hydra Life Time to Glow Ultra Fine Exfoliating Powder, which gets the job done without causing any additional skin issues. This gentle exfoliating powder becomes a light foam with water to deep clean skin. It also has sugar extract and lotus seeds to polish the skin's surface, resulting in a super soft and supple touch. 
"For dry skin, an extremely gentle scrub is a must as the skin barrier is already compromised and at risk of cracking with too much abrasion. This product is extremely gentle and I personally use it, as my skin is quite dry. It leaves it smooth, radiant, and even more hydrated," Dr. Del Campo says. 
8 Cleansing Body Polish with Active Charcoal
First Aid Beauty
dermstore.com
$28.00
All it takes is a gentle exfoliator to reduce patches and flakes. "I like First Aid Beauty's Cleansing Body Polish with Active Charcoal because it combines chemical and physical exfoliators, like salicylic acid," Dr. Engelman says. The active charcoal in this body scrub helps remove dirt and impurities, while argan oil, vitamin E, and honey helps soothe and replenish moisture to the skin. This body scrub will help lift and break away skin that's ready for removal, Dr. Engelman says. However, she warns that dry skin has a compromised skin barrier, so don't apply too much pressure.
9 Brown Sugar Body Polish
Fresh
nordstrom.com
$39.00
Your skin will feel luxuriously soft after you use this brown sugar body scrub, which also has sweet almond, apricot kernel, and jojoba oils to gently buff away dry skin while also sealing in moisture. Sugar is a natural humectant, which means it binds with water to increase the moisture level in the skin. The citrus oils also help to brighten dull skin and energize you with its zesty scent.
10 Thermafoliant Body Scrub
Dermalogica
ulta.com
$44.00
Made with a mix of chemical exfoliators, malic acid and lactic acid, this body scrub helps purify and remove dead skin. It also has tea tree and olive oil to disinfect and moisturize, revealing brighter and more radiant skin. White tea and chamomile deliver nourishing antioxidants as well to help protect your skin from damaging free radicals. 
11 Forever Gentle Refining Scrub
Alchimie
dermstore.com
$45.00
Another great option for aging skin is something that's also built for sensitive skin. "Stick with a gentle scrub, similar to dry skin, as the skin thins and becomes more fragile with aging," Dr. Del Campo says. This option from Alchimie Forever deep cleans the pores and gets rid of dry skin with papaya enzymes, cranberry, and jojoba beads, reducing wrinkles and tightening at the same time.
Advertisement - Continue Reading Below
These Body Scrubs Exfoliate Dry Skin Without Feeling Like You're Ripping It Off, Source:https://www.prevention.com/beauty/skin-care/g25383810/best-body-scrubs/
That was These Body Scrubs Exfoliate Dry Skin Without Feeling Like You're Ripping It Off
That Was These Body Scrubs Exfoliate Dry Skin Without Feeling Like You're Ripping It Off, Hopefully it's useful and you like it.
You are reading These Body Scrubs Exfoliate Dry Skin Without Feeling Like You're Ripping It Off,Url address: https://www.dwibcc.org/2019/10/these-body-scrubs-exfoliate-dry-skin.html