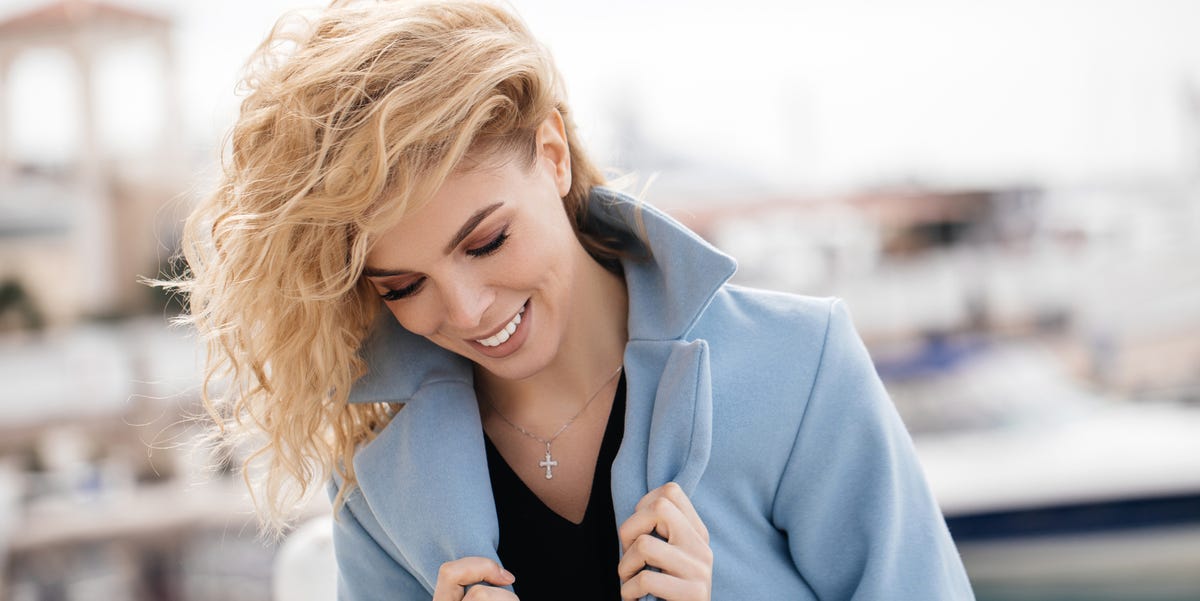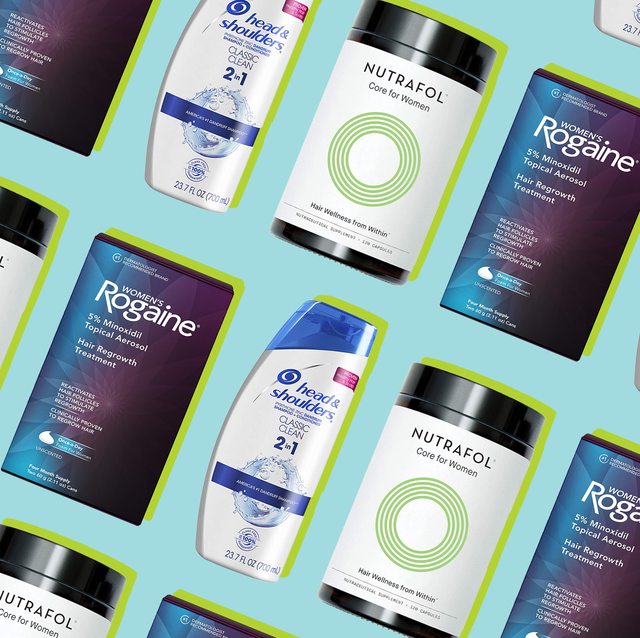 Alisa Hrustic
This article was medically reviewed by Caroline Chang, MD, a board-certified dermatologist and member of the Prevention Medical Review Board.
If you have thinning hair, you're certainly not alone. In fact, it's perfectly normal to lose an average of 50 to 100 hairs every day, according to the American Academy of Dermatology. The amount of hair you have (as well as your hair type) is predetermined by your genetic makeup. Basically everyone experiences some hair loss with age, since the rate of growth also slows as you get older.
But in addition to the natural progression of hair loss, a number of other factors can exacerbate thinner strands. One of the most common culprits in women? Hormonal changes.
This often happens when you start or discontinue oral birth control, after you have a baby (approximately four months postpartum), and during menopause, says Francesca Fusco, MD, a board-certified dermatologist at Wexler Dermatology in New York City. Conditions influenced by hormones, like PCOS, thyroid problems, and even stress can also cause shedding.
Another very common cause of hair thinning is inflammation of the scalp. "This is commonly seen in dandruff, with the patient experiencing an itchy scalp, flaking, and irritation," Dr. Fusco explains, adding that conditions like psoriasis and even fungal infections can lead to hair thinning when symptoms go untreated.
Your first step: See a doctor to pin down the cause of your thinning hair. If you have an underlying medical condition at play, you may need specific medications or treatments in order to re-grow your locks. Then, turn to over-the-counter products that can help restore some of the volume, strength, and shine. The following shampoos, hair oils, and supplements are some of the most effective products for hair thinning, according to dermatologists.
Advertisement - Continue Reading Below
1
Best Overall for Women
Women's 5% Minoxidil Foam for Hair Thinning and Loss
Rogaine
amazon.com
$41.99
Aside from minoxidil, Rogaine has botanical extracts to help maintain a healthy, conditioned scalp, which provides an optimal environment to regrow hair. Then, there's alpha hydroxy acid (AHA) to promote natural skin exfoliation and keep your hair follicles open. 
More than 80 percent of women experienced hair growth after using Rogaine compared to a placebo during a clinical study funded by the brand, so it's worth a try.
2
Best Overall for Men
Men's Extra Strength 5% Minoxidil Topical Solution for Hair Loss and Hair Regrowth
Rogaine
amazon.com
$44.99
Rogaine was the first FDA-approved brand to treat hair loss in both men and women by stimulating your hair follicles to regrow thicker, fuller locks. Minoxidil addresses both male thinning hair and female androgenetic alopecia, which is hair thinning around the crown and part, as well as a receding hairline, says Dr. Fusco.  
"Minoxidil's mechanism of action is believed to be due to an effect on the calcium channels in the hair cells," explains Dendy Engelman, MD, a board-certified dermatologist at Manhattan Dermatology and Cosmetic Surgery. "It increases the capillary blood flow to the dermis of the skin where the follicle resides to make them stronger and help regrow hair."
3
Best Dandruff Shampoo
Dove Dermacare Scalp Dryness & Itch Relief Anti-Dandruff Shampoo, 12 oz
Dove
walmart.com
$4.68
Given its super affordable price and its four-star reviews, you just can't beat a dermatologist-recommended dandruff shampoo that also helps reduce thinning hair. This is the product Dr. Fusco tells patients to purchase when they're dealing with shedding. 
"Its key ingredient is zinc pyrithione, which helps remove build-up of dead skin cells around the scalp that can prevent hair growth," she explains. "When used regularly, it stops the flaking, itching (and subsequent scratching), which can lead to excessive shedding and thinning."
4
Rave Reviews
Classic Clean 2-in-1 Shampoo
Head & Shoulders
walmart.com
$5.94
This affordable, over-the-counter anti-dandruff shampoo contains zinc pyrithione, an ingredient that fights off the dandruff-causing microbe malassezia globosa that lives on our scalps. This 2-in-1 formula also contains selenium sulfide, which is used to treat more serious conditions like fungal infections. Lastly, zinc carbonate in the shampoo moisturizes the scalp to create a healthy environment for hair growth.
5
Best Supplement for Hair Thinning
Nutrafol Hair Loss Thinning Supplement
amazon.com
$88.00
This physician-formulated hair supplement uses botanicals that address every stage of the hair growth cycle. "DHT inhibitors and anti-stress adaptogens rebalance hormone levels to reduce follicle damage, and anti-inflammatories and antioxidants reduce damage," Dr. Engelman explains. "Vitamins, minerals, and amino acids regrow and support hair building blocks." This is a great option if you're looking to veer towards more natural treatments, although the best results are seen after consistent use over several months. 
6
Bestseller
Extra Strength Hair Nutrient Tablets
Viviscal
ulta.com
$39.99
These daily supplements contain ingredients like biotin, apple extract, vitamin C and a marine complex called AminoMar to help nourish hair and promote healthy growth from within, Dr. Engelman says. Viviscal supplements work to extend the anagen phase of the hair growth cycle (aka the growth phase). In addition to their supplements, Viviscal offers a complete line of hair care products including a shampoo and conditioner that work to combat thinning hair.
7
Best Shampoo for Fragile Hair
Caviar Anti-Aging Clinical Densifying Shampoo
ALTERNA
amazon.com
$34.00
$18.63 (45% off)
Celebrity hairstylist Andrew Fitzsimons, whose clients include the Kardashians, recommends this shampoo for anyone concerned about hair thinning or fragile hair. "It supports the reduction of DHT—a key contributor to hair loss—on the surface of the scalp and also eliminates follicle-clogging dirt, excess sebum, and environmental residues, allowing healthier, thicker-looking hair to surface," he says. "The formula also contains a proprietary Red Clover Densifying Complex to encourage naturally thicker, fuller, stronger hair that appears and feels denser from the inside out."
8
Best Natural Scalp Treatment
Scalp Care Anti-Thinning Shampoo
Tea Tree
amazon.com
$20.00
$16.00 (20% off)
To prevent hair thinning and loss, you might not think to scour the scalp care section, but you'd be wise to, according to Dr. Engelman. "The scalp contains many sebaceous glands, which produce oil, or sebum, that protects hair. Because of the abundance of sebaceous glands, it's important to clean your scalp thoroughly," she says. "If oil builds up, you can end up with clogged hair follicles or dandruff." 
That's why she recommends this line which contains a botanical blend that contains clover flower extract, pea peptides, turmeric, kakadu plum, and ginseng to stimulate the scalp and protect against breakage. "Look for tea tree oil as a natural way to remedy scalp buildup," she adds.
9
Best Hair Growth Oil
Magic Elixir Hair Restructuring Concentrate
Kiehl's
nordstrom.com
$20.00
According to Dr. Fusco, rosemary oil has recently come to the attention of dermatologists and scalp specialists as a surprisingly great hair treatment. "A few drops in your shampoo or conditioner or a mask is very effective at improving circulation of the scalp," she says. 
You can try this pre-shampoo treatment that contains a mixture of rosemary leaf as well as other natural ingredients to help promote healthy-looking hair. "You apply this product directly to the scalp 10 minutes before washing your hair, gently massaging your scalp to help stimulate blood flow," Fitzsimons adds.
10
Best Strengthening Shampoo
Full Potential Shampoo
Bumble and Bumble
nordstrom.com
$31.00
This shampoo promises long-term results by gradually strengthening your hair's three main structure: the scalp, roots, and mid-shaft to ends. While your thinning hair begins its thickening recovery process, use this tip from hairstylist Lucy Flint: "When your hair is looking limp, lightly mist it with water and then spray with a root-lifting booster spray (like this one). Use your hands and a towel to manually rough-dry your hair until it's mostly dry. Then, using a round brush, smooth out the pieces around your face by blow drying them forward, along with the top layer of the hair. Turn your head upside down and spritz hairspray all over."
11
Best Hair Mask
Treatment Masque
Ouai
sephora.com
$32.00
While this hair mask won't necessarily treat thinning hair, it mends split ends and makes your strands strong against future damage by deeply conditioning. The artichoke leaf extract protects the hair cuticle, which is the outermost layer of the hair. Hair cuticle is made of a protein called keratin, also known as the structural building block of your hair. You'll want to strengthen the hair cuticle so your strands are less likely to break, causing it too thin out.
12
BEST HAIR SYSTEM KIT
3 Part System Kit
Nioxin
amazon.com
$45.00
$36.00 (20% off)
Nioxin utilizes some advanced technologies to provide real solutions for making the most of the hair you have, says Keith R. Durante, MD, FACS, a microvascular hair surgeon and director of hair rejuvenation at The Ash Center. "It is primarily used to remove dirt and debris that can clog follicles and also excess sebum, which is an indicator of dihydroxy testosterone (DHT). DHT has been identified as one of the main culprits for genetic type hair loss, especially in men or women with hormonal imbalances," he explains. 
The most important ingredients to pay attention to in Nioxin are nettle root extract, niacin, biotin, B vitamins and saw palmetto, which helps to inhibit DHT. "It is easy to use and safe; however, prolonged use is required before seeing any results," Dr. Durante says. "It works only as long as you use it and it certainly doesn't prevent genetic pattern baldness."
Advertisement - Continue Reading Below
The Best Shampoos, Oils, and Supplements to Help Regrow Thinning Hair, Source:https://www.prevention.com/beauty/hair/g20493665/10-best-products-for-thinning-hair/
That was The Best Shampoos, Oils, and Supplements to Help Regrow Thinning Hair
That Was The Best Shampoos, Oils, and Supplements to Help Regrow Thinning Hair, Hopefully it's useful and you like it.
You are reading The Best Shampoos, Oils, and Supplements to Help Regrow Thinning Hair,Url address: https://www.dwibcc.org/2019/10/the-best-shampoos-oils-and-supplements.html