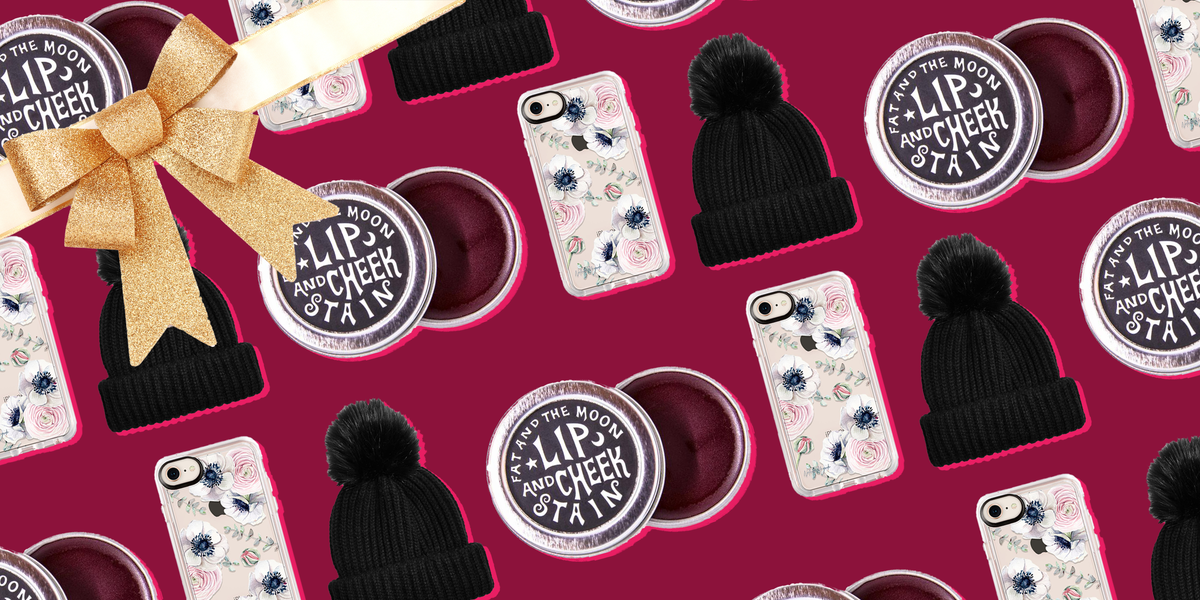 Rule #1 when it comes to shopping for your wife this holiday season: Don't wait until the last minute. Rule #2: If you do find yourself scrambling—no judgement, it happens—then never allow your shopping anxiety to show. "How do I pull off that last one?!" you might be wondering. One trick is to zero in on creative, slightly unpredictable picks that show you've really given her tastes and interests some thought; another is to seek out tried-and-true classic products with a luxe factor she would back away from if buying for herself. The picks in the list below meet both of those bars, from big ticket items to stocking stuffers. Oh, and Rule #3? Include a nice card and use beautiful wrapping paper. When it comes to wife gifts, points are awarded for thoughtful presentation!
1 Velvet Memory Foam Slippers
HALLUCI
amazon.com
$16.99
Who says slippers have to be solely practical? These velvet cuties feature a non-slip sole plus a feathery poof at the toe. The design (which comes in multiple sizes) conforms to feet for support.
2 Taner Hoop Earrings
GORJANA
nordstrom.com
$60.00
While there's nothing wrong with a pair of sparkly studs, a delicate pair of hoops are always appreciated. The hammered finish of this pair makes them extra special. Choose from 18-karat gold or silver plated.
3 Velvet Padded Pearl Embellished Headband
AWAYTR
amazon.com
$12.99
Whether you know it or not, headbands are back in a big way—and by big, we mean that literally: The more festive the design, the better. This pearl-dotted accessory is on trend and potentially part of her glam New Year's Eve ensemble.
4 The Pout Leather Hat Clip
TOPTOTE
nordstrom.com
$48.00
The main challenge to leaving the house in a cute structured hat is what to do with it when you don't want it on your head anymore. Enter: This convenient clip, which attaches to a purse, keeping the chapeau safe, sound, and un-squished.
5 30 Rolls of Gold Foil Washi Tape
AfaTAPE
amazon.com
$19.99
$13.99 (30% off)
Epic stocking stuffer alert: Featuring a variety of fun, whimsical prints, this washi tape pack is awesome for crafting, decor, gift wrapping, and other projects. With 30 rolls to the pack, your partner is sure to find plenty of ways to this removable tape to use!
6 Bose SoundLink Micro Portable Outdoor Speaker
Bose
amazon.com
$99.00
Ideal for romantic getaways, weekends in the park, or just rocking out in the bathroom during her morning getting ready routine, this Bose portable speaker with wireless bluetooth connectivity packs a punch. Bonus if you gift it with a sweet playlist.
7 Vintage Botanical Illustrations
amazon.com
$17.99
This fabulous coffee table book comes with practical applications, too: It's a thoughtful way to acknowledge a budding horticultural appreciation or a desire to paint or draw plants.
8 Conair Foot Spa/Pedicure Spa
Conair
amazon.com
$24.99
Sometimes the best presents are two-parters—and that's the case with this at-home pedicure spa from ConAir, which features a relaxing vibration setting and pinpoint massager. So that's part one. Part two is a foot rub. Also from you, of course.
9 Fujifilm Instax Mini 90 Instant Film Camera
Fujifilm
amazon.com
$119.95
Yes, our phones are incredible camera technology. But sometimes tangible memories are all the sweeter. This instant film camera makes it easy to capture and hold onto precious moments, one snap at a time. Don't forget the extra film!
10 Whirley-Pop Popper Kit
Wabash Valley Farms
amazon.com
$27.99
While there's nothing wrong with microwave popcorn, something about a Whirley-Pop makes watching movies on the couch a next-level date night. This classic kitchen device, which works by churning kernels on the stovetop, also makes customizing your corn a breeze.
11 Stained Glass Triangle
DebbieBeanStudio
etsy.com
$45.00
Stained glass is making a comeback in decor. Add a dash of it to your home with a beautiful piece from designer Debbie Bean. This triangle-shaped design looks lovely suspended in a window with great light!
12 Cactus Tealight Candles
TecUnite
amazon.com
$12.99
Whether your wife is a gardener or not, these cute little succulent candles add a touch of desert greenery delight to any tabletop. Sometimes it's the little things that wind up being the most beloved during the holiday season.
13 Simple Modern Stainless Steel Insulated Water Bottle
Simple Modern
amazon.com
$9.99
Even if you haven't banned plastic bottles from your household (note to self: do that ASAP) this vacuum sealed, insulated item will become her go-to. The slim shape makes it easy to carry in a bag or purse. Choose a design and color you know she'll adore.
14 5-Piece Packing Cube Set
CALPAK
nordstrom.com
$48.00
"A place for everything and everything in its place"—that motto will actually apply to packing once these cubes enter the mix. We love the cute terrazzo pattern but pick from a variety of styles, all of which comes with four zippered cubes and a water-resistant pouch for wet/laundry storage.
15 Blossom Love iPhone 7/8 & 7/8 Plus Case
CASETIFY
nordstrom.com
$36.00
Another stocking stuffer alert! Swapping out cases can make any phone feel brand new again. This cute design features a sweet floral pattern as well as shock-resistant technology that'll help keep her screen intact.
16 Faux Fur Pom Beanie
TOPSHOP
nordstrom.com
$26.00
Is it possible to have too many winter beanies? No, it is not, especially when they are this adorable. This slightly stretchy knit hat is (literally) topped off with a fun poof—a look that earns you "on-trend" bona fides.
17 Personalized Passport Holder
LullasBoutique
etsy.com
$40.12
You get to pick the case and embossing color in this cute design, so make sure to slyly zero in on your traveler partner's preferences before signing off on this purchase, which is made from structured leather. Next start planning a post-holiday trip!
18 'Cedre 11' Classic Candle
LE LABO
nordstrom.com
$75.00
This brand swept the perfume world by storm over the past several years and its candles are just as coveted. This cedar scented, 100% soy wax pick has a 60-hour burn time: It's like lighting a romantic fire without the hassles of actually building a fire.
19 Tata Harper Skincare Hyaluronic Duo
TATA HARPER SKINCARE
nordstrom.com
$115.00
Even total skincare novices know that winter means battling dryness. This luxe set with moisture-attracting hyaluronic acid works in seamlessly with existing routines. And did we mention it smells amazing?
20 Sheared Stripe Faux Fur Throw
NORDSTROM AT HOME
nordstrom.com
$49.00
Cuddly and luxurious are not mutually exclusive adjectives and this blanket proves it. Made of soft faux fur, it's a chic decor pick that's also machine washable—a.k.a. a win on all counts.
21 Lightweight Hooded Velour Robe
THE WHITE COMPANY
nordstrom.com
$75.00
Who says a bathrobe is blasé? This three-quarter length cozy pick is 83% cotton with a velvety finish. The hood makes it ideal for chilly nights or lounging around on a weekend morning. In other words: It's perfect. 
22 Giftables Organic Pearl Frame
BEATRIZ BALL COLLECTION
nordstrom.com
$43.00
Picture frames are a go-to for Mother's Day gifting. But they also work great at holiday time, especially when filled with a special note or a beautiful pic she'll be surprised you printed. Vintage details make this frame a true standout.
23 Camomile Daisy Embossing Rolling Pin
ValekRollingPins
etsy.com
$34.55
From pie crusts to tarts and cookies, this rolling pin ups baking game with a sweet floral print. Laser-engraved, it's a terrific pick for the baker in your life!
24 Lip & Cheek Stain
FatandtheMoon
etsy.com
$12.00
Made entirely from organic ingredients, this cult beauty product from indie shop Fat and the Moon is a sweet little thing to stuff in her stocking. The color can be layered for a lighter or heavier look and has real staying power. There's a reason it's an Etsy bestseller!
25 Bath Salt Spa Gift Set Collection
BEINGapothecary
etsy.com
$54.00
Made from natural, vegan, cruelty-free salts, this trio is one way to say: "You deserve to relax, babe." Extra kudos if you include some candles for lighting around the tub and offer to draw a warm bath, too!
25 Unique Gifts for Your Wife That She'll Seriously Love, Source:https://www.prevention.com/life/g29506213/unique-gifts-for-wife/
That was 25 Unique Gifts for Your Wife That She'll Seriously Love
That Was 25 Unique Gifts for Your Wife That She'll Seriously Love, Hopefully it's useful and you like it.
You are reading 25 Unique Gifts for Your Wife That She'll Seriously Love,Url address: https://www.dwibcc.org/2019/10/25-unique-gifts-for-your-wife-that-she.html