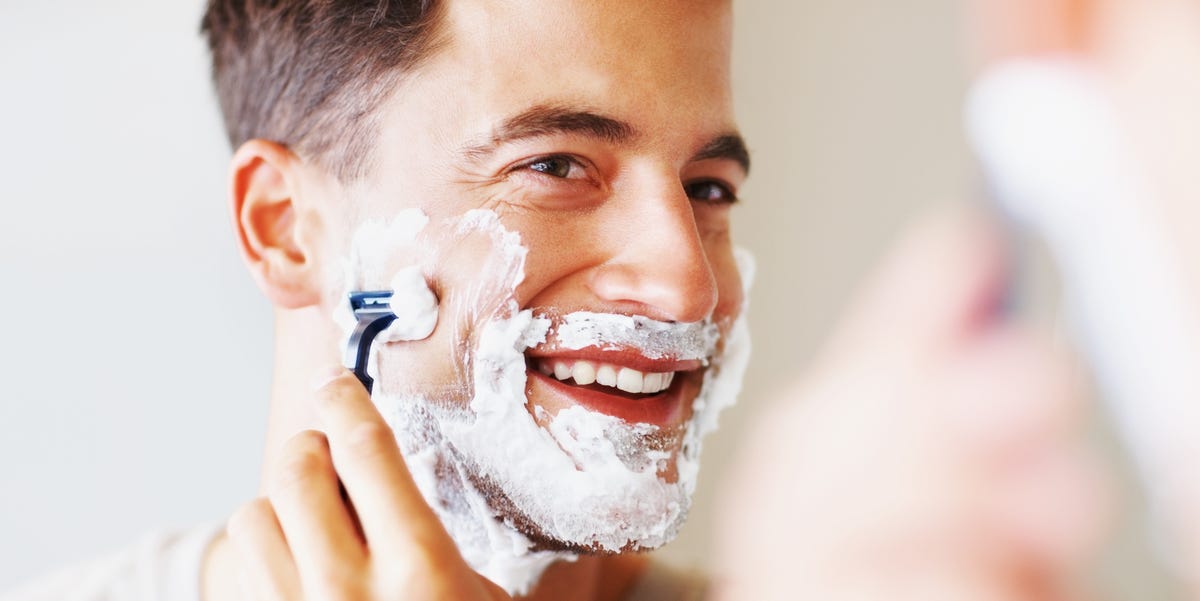 A majority of men regard shaving as a bothersome chore for good reason: Using a razor your skin doesn't like can result in cuts, burns, bumps, redness, and every other skin problem you rather avoid. If your hair is anything past a day long, some blades pull rather than cut the hair. The tiny gaps become clogged with whiskers and dead skin, requiring multiple passes, causing even more irritation. Your face hurts, so you skip a few days, and the cycle and loathing repeat.
Shaving can be a bit complicated, and there are many factors to consider when choosing the right products for your face—namely what 22-blade, ninja foil won't leave you looking like hamburger. The male face is sensitive (yes, sensitive!) and requires a pre-shave process and a post-shave restorative period. The skin acclimates to a certain device and method of shaving, so when you switch things up, there is a punitive phase by the follicles and your face will feel angry.
Most shaving issues are caused by using dull or dirty razor blades, poor preparation of the skin and hair before shaving, or simply using the wrong products for your skin type. The first step: Finding the right razor. But how do you decide on the right one? And how do you use it without making your skin flare up? We asked dermatologists and an esthetician to share their tips.
How to choose (and use) the best razor for your face
Look for multiple blades: Sensitive skin? "Three blades are sufficient without causing excessive friction and irritation," says Sonia Batra, MD, board-certified dermatologist and co-host of the The Doctors.
If you find your skin tolerates that well and would like to try a razor with four or five blades, go for it. "This helps with the amount of times you'll have to pass the razor on your skin, reducing chances of irritation," says Debra Jaliman, MD, a board-certified dermatologist in New York City and the author of Skin Rules. The amount of blades will really depend on your personal preference.
Keep it clean: It's important to keep your razor heads really clean to prevent them from picking up bacteria, which ups your risk of skin infection. Remove any hair from your device, and then "rinse off the blades and any parts that can be cleaned with water before dead skin cells, sebum, and hair accumulate," says Cynthia Bailey, MD, a board-certified dermatologist in northern California.
Consider other key players: Your skin prep makes all the difference in the quality of your shave. "For the smoothest and longest-lasting shave, men should exfoliate the day before," says Rin Mitchell, esthetician and owner of Bare & Beards.
And, if you're prone to razor bumps, be sure to cleanser thoroughly before your shave. You can also talk to your doctor about getting a prescription shaving gel that contains benzoyl peroxide (which fights bacteria), says David Lortscher, MD, dermatologist and CEO of Curology. Follow with a soothing and moisturizing aftershave.
Now that you know the basics, you're ready for the perfect shave. Here, the best cartridge, disposable, electric, and safety razors you can try—all approved by experts.

1
BEST OVERALL
Harry's The Truman Razor
amazon.com
$17.59
Dr. Lortscher recommends Harry's The Truman Razor. Its five-blade cartridge has a flex hinge and lubricating strip for comfortable glide and close shave, while the textured, rubberized handle offers optimum control, even when wet. Bonus: It has a weighted core and ergonomic shape that feels good in the hand. Refill packs come in 12 five-blade cartridges.
2
BEST VALUE
Gillette Mach3 Men's Razor
amazon.com
$6.99
"This razor is suitable for both sensitive skin and denser, tougher beards," says Dr. Batra. "The razor cartridges also have a lubrication strip, which helps minimize razor burn and the risk of nicks."
Just be sure to replace the cartridge: "Lack of proper blade replacement can cause the blade to dull, increasing the risk of cuts, as well as a buildup of bacteria, which can give rise to infections," says Dr. Batra. And, for those with ultra-sensitive skin, there is the highly-rated Mach3 Sensitive disposable version.
3
RAVE REVIEWS
Philips Norelco Men's Electric Shaver 2100
walmart.com
$39.96
Though most men prefer wet-shaving with a razor, many guys have tightly coiled hair shafts prone to ingrown hairs after the close shave from disposable or cartridge razors, says Dr. Bailey.
She says that, "men prone to ingrown hairs are better off using an electric razor that leaves a little stubble with hair shafts above the surface of the skin." This Norelco gets the job done, and has a one-touch open feature to rinse clean under the tap.
4
BEST FOR SENSITIVE SKIN
Gillette SkinGuard Men's Razor for Sensitive Skin
amazon.com
$19.97
"This razor is helpful for sensitive skin and for those prone to shaving irritation and ingrown hairs because it has a special guard on the blade which prevents it from shaving too close," explains Hadley King, MD, a board-certified dermatologist and clinical instructor at the Weill Medical College at Cornell University. "You still get a pretty close shave without the irritation." An additional upside is that the handle fits all SkinGuard and Fusion Blade refills if you prefer to use another blade.
5
BEST DISPOSABLE RAZOR
Gillette Fusion5 ProGlide Men's Razor
walmart.com
$10.49
"The best razors are ones that have multiple blades, such as Gillette Fusion 5 with five blades," says Ariel Ostad, MD, a board-certified dermatologist in New York City. With its FlexBall technology, the Gillette ProGlide contours surfaces to shave hair in hard-to-reach areas. The five anti-friction blades give a lightly perceptible shave and the enhanced Lubrastrip ensures comfort.
6
BEST SAFETY RAZOR
Weishi Long Handle Double Edge Safety Razor
amazon.com
$16.98
Mitchell stresses that a single blade, doubled-edged safety razor is best because "you get a close shave by shaving in the direction of the hair growth." For a great shave, hold the WEISHI by the handle tip and use as little pressure as possible, letting the weight of the razor do the work. Hold the blade at a 45-degree angle, and shave with the grain of your beard.
7
BEST ELECTRIC RAZOR
Philips Norelco Electric Shaver S9000 Prestige
amazon.com
$279.95
This is the razor for guys who go electric but still want the closest shave possible. Dr. King recommends this electric razor because it "does not pull or irritate the skin and can be used for both wet and dry shaving with minimal irritation." The shaving heads effortlessly glide over your skin to remove even the densest beard, while a sensor checks hair density 15 times per second to adapt accordingly. Plus, the heads move in eight directions to hit the hard-to-reach areas, and it comes trimmer-equipped for the finishing details.
8 Gillette Labs Heated Razor
$200
SHOP NOW
This cartridge razor has a warming technology that heats up in less than a second to provide continuous soothing warmth to your skin. It's comfortable in the hand, doesn't slip, and you can use it in the shower. (The ladies love it too, so keep it hidden!) "Heated shaves, in general, are a great way to get a cleaner, smoother shave," says Dhaval G. Bhanusali, MD, a board-certified dermatologist and researcher in New York. "They are especially useful for those who tend to get ingrown hairs and folliculitis." A four-pack of heated cartridges is $25.

These Top-Rated Men's Razors Will Give a Perfect Shave Every Single Time, Source:https://www.prevention.com/beauty/skin-care/g29251179/best-razor-for-men/
That was These Top-Rated Men's Razors Will Give a Perfect Shave Every Single Time
That Was These Top-Rated Men's Razors Will Give a Perfect Shave Every Single Time, Hopefully it's useful and you like it.
You are reading These Top-Rated Men's Razors Will Give a Perfect Shave Every Single Time,Url address: https://www.dwibcc.org/2019/09/these-top-rated-mens-razors-will-give.html