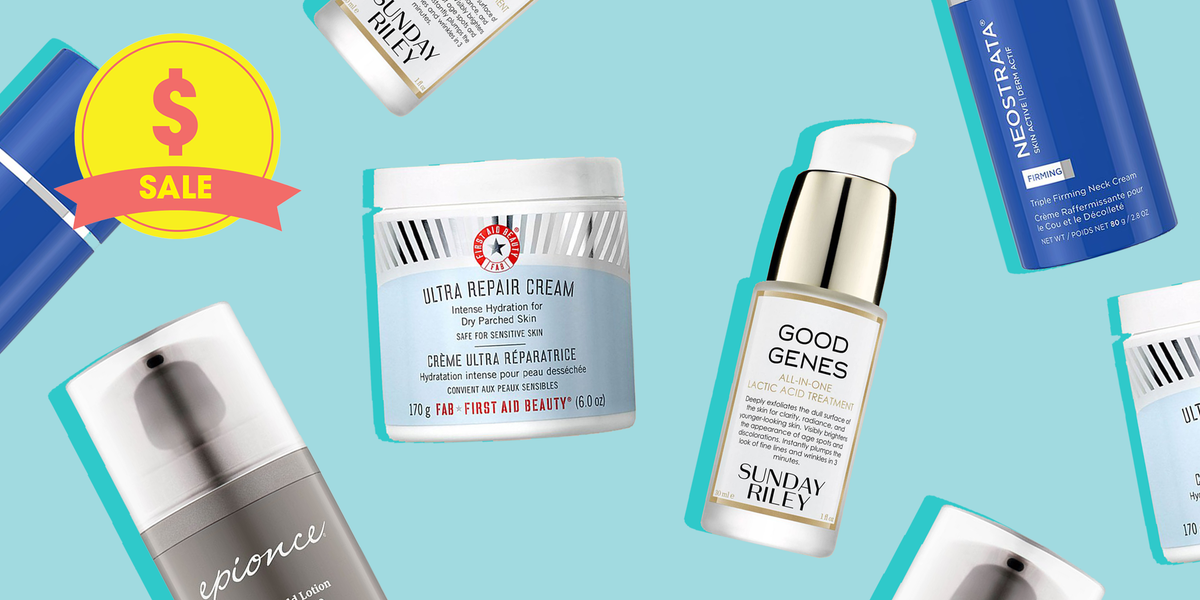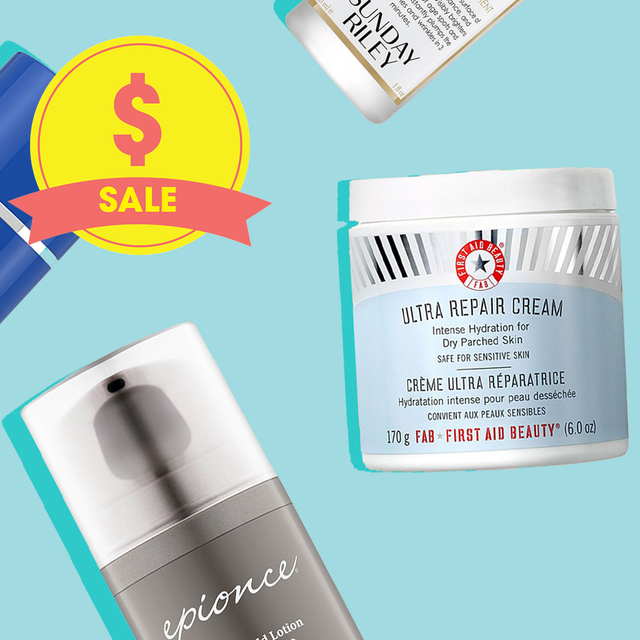 Dermstore
Good news for beauty lovers who are looking to overhaul their skincare routine with new products for the fall and winter: Dermstore's Anniversary Sale kicks off Saturday, August 17 and runs through Sunday, August 25—and select products are going on sale for up to 25 percent off with promo code CELEBRATE. That's right—you can score amazing discounts on all of your favorite, dermatologist-approved products, like First Aid Beauty, Sunday Riley, Olga Lorencin, and Revitalash. There's no better time to stock up on the best vitamin C serums, retinol creams, tinted moisturizers, and much, much more. Here are the best deals to check out all week long.
Advertisement - Continue Reading Below
1
20% Off
Sunday Riley Good Genes Treatment
Sunday Riley
dermstore.com
$105.00
This all-in-one, anti-aging treatment is made with purified grade lactic acid, which exfoliates your skin and promotes collagen growth to smooth fine lines and reduce other signs of aging. Plus, it has soothing and hydrating ingredients like prickly pear, aloe leaf extract, and squalane. In fact, in a paid clinical trial, women said that the product made their skin look and feel smoother and more radiant. 
2
25% Off
Triple-Firming Neck Cream
NeoStrata
dermstore.com
$88.00
This anti-aging neck cream has a powerful triple-action formula that works to combat the signs of aging and uneven skin tone by boosting collagen production. Packed with antioxidants, vitamin E, amino acids, and shea butter, this cream will help reveal healthier, firmer skin in no time. 
3
25% Off
Advanced Eyelash Conditioner - 3 Month Supply
RevitaLash
dermstore.com
$98.00
We know the secret to Meghan Markle's lush lashes—and it's this lash serum. "I use Revitalash on my eyelashes, and I swear they are as long as they could ever be," the Duchess of Sussex previously told Allure. This lash serum has a powerful combination of peptides and botanicals that work to prevent breakage and keep them looking healthy and soft. 
4
25% Off
Ageless Facial in a Box, 2-piece
Olga Lorencin Skin Care
dermstore.com
$98.00
No time or money to afford a facial at the spa? No problem. Halle Berry swears by this two-piece facial set, which comes with a brightening cream peel and a hydrating sleep mask to give you the post-spa glow you desire. The brightening cream peel has succinic acid to naturally exfoliate your skin, while the sleeping mask hydrates and keeps it plump with allantoin. 
5
20% Off
Juno Hydroactive Cellular Face Oil
Sunday Riley
dermstore.com
$72.00
If you're on the market for a new face oil, consider this antioxidant-rich one from Sunday Riley. It's packed with blueberry seed oil for vitamin E and omega-3 fatty acids; cranberry seed oil for vitamins A, C, E, and K; red raspberry seed oil for its soothing properties; and broccoli seed oil, which is rich in vitamin A and erucic acid. Because it's infused with a powerful blend of superfood oils, it brightens your skin and unveils a healthy glow. Drew Barrymore says this face oil "was one of the very first products that made me fall truly in love with skincare."
6
15% Off
Professional-C Serum 10%
Obagi
dermstore.com
$85.00
Designed to get deep into your skin, Obagi's vitamin C serum provides antioxidant protection from harmful UV damage and helps even out hyper-pigmentation. It also promotes the growth of collagen and elastin fibers. 
7
20% Off
Daily Shield Lotion Tinted SPF 50
Epionce
dermstore.com
$38.00
Hide blemishes, uneven skin tone, and signs of aging with this everyday tinted moisturizer with SPF 50. It applies on smooth and blends well with your skin tone to give you a healthy glow. The other bonus is that it's paraben- and fragrance-free, making it ideal for people with sensitive skin. Wear it alone or underneath makeup for a natural look that also enhances the health of your skin. 
8
25% Off
Ultra Repair Cream
First Aid Beauty
dermstore.com
$32.00
Once cold weather hits, you'll be glad to have this hydrating face and body lotion by your side. Made with shea butter, ceramides, and essential oils, this non-greasy cream penetrates deep into the skin to seal moisture on dry hands, shoulders, knees, and toes. It also features allantoin and eucalyptus oil to help reduce flaking and irritation from psoriasis and eczema. 
9
25% Off
6 Minutes To A Whiter Smile Kit
Supersmile
dermstore.com
$54.00
Get a whiter, brighter small in just 6 minutes with this teeth whitening kit, which comes with a whitening toothpaste, a bleaching solution, activating rods for cleaning the surface of the tooth, a special angled toothbrush, and a whitening pre-rinse. Each product is a 30-day supply to reveal a whiter smile with no sensitivity.
10
25% Off
FAB Skin Lab Retinol Serum 0.25% Pure Concentrate
First Aid Beauty
dermstore.com
$58.00
This retinol serum from First Aid Beauty has all the makings of a great anti-aging product: retinol (for wrinkles and fine lines), peptides (to smooth skin), hyaluronic acid (to hydrate and plump up skin), and vitamins C and E (to prevent signs of aging). What's more, it also has aloe and ceramides to soothe redness, boost hydration, and protect your skin. 
11
20% Off
Mineral Sunscreen SPF 50
Avene
dermstore.com
$28.00
Paraben-, sulfate- and fragrance-free, this lightweight and quick-drying sunscreen offers UVA and UVB sun protection for up to 80 minutes in the water. Avene's sunscreens boasts hydrating properties, and they provide a natural, matte finish that looks great underneath makeup. 
12
25% Off
Acne Pimple Master Patch
COSRX
dermstore.com
$6.00
This pimple patch penetrates deep into your skin to deliver white willow bark and betaine salicylate to treat the inflammation from acne. Like many pimple patches out there, it also has hydrocolloid to encourage healing and minimize the appearance of blemishes. 
13
25% Off
Eye Therapy Patch with Case, 6-piece
TALIKA
dermstore.com
$59.00
When you've only had a few hours of sleep, these reusable eye therapy patches can rejuvenate tired eyes in just 30 minutes. It has a nourishing formula made with ceramides that helps reduce puffiness, wrinkles, dark circles, and inflammation. You can use the eye patches up to three times, and it comes with a jewel case for safe storing. 
14
20% Off
Redness-Relief Refreshing Cleansing Lotion
Avene
dermstore.com
$24.00
If you have red, aggravated skin from rosacea, you need a gentle cleanser that'll help calm it down and reduce inflammation. Enter: Avene's cleansing lotion, which is made with ruscus extract to reduce redness and support microcirculation, helping to mask visible blood vessels. It's also formulated with soothing and hydrating ingredients, like shea butter and vitamin E. 
15
25% Off
Instant UpLift
Nurse Jamie
dermstore.com
$69.00
Facial contouring is a thing, and this painless tool allows you to sculpt your your face to reveal firmer, more energized, and younger-looking skin. It has a rotating head covered with 24 precious tourmaline stones that work in a rhythmic rolling action to uplift your skin.
Advertisement - Continue Reading Below
15 Dermatologist-Approved Products to Score During Dermstore's Anniversary Sale, Source:https://www.prevention.com/beauty/skin-care/g28677389/dermstore-anniversary-sale-2019/
That was 15 Dermatologist-Approved Products to Score During Dermstore's Anniversary Sale
That Was 15 Dermatologist-Approved Products to Score During Dermstore's Anniversary Sale, Hopefully it's useful and you like it.
You are reading 15 Dermatologist-Approved Products to Score During Dermstore's Anniversary Sale,Url address: https://www.dwibcc.org/2019/08/15-dermatologist-approved-products-to.html