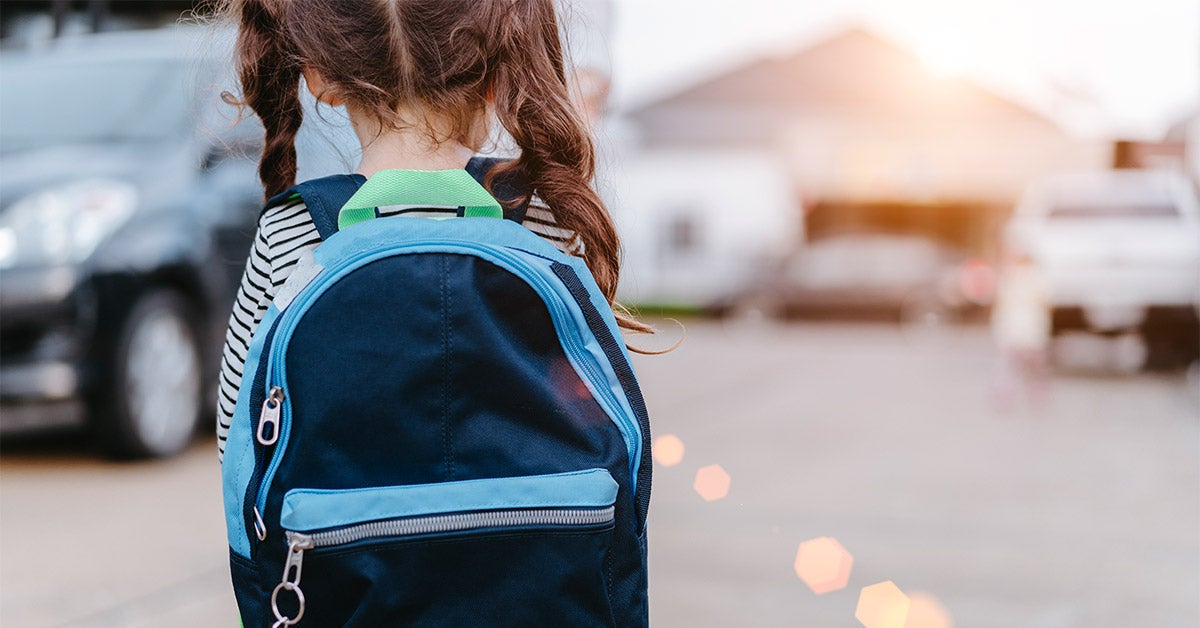 Researchers say a child's backpack should weigh no more than 10 percent of what the student weighs.
They add that trolley backpacks should weigh less than 20 percent of a child's weight.
Experts say heavy backpacks can cause muscle soreness as well as back and neck pain.
Among the tips they offer parents are carrying only essentials in backpacks, leaving other items in lockers, and cleaning out backpacks once a week.
How much stuff should a child cram into their school backpack?
Researchers think they may have an answer.
For the first time, experts have calculated how much a child's backpack should ideally weigh.
Turns out, it's based on the youngster's body weight.
The researchers say schoolchildren should carry a maximum weight of 10 percent of their total body weight.
Their findings are based on a study involving 49 primary school-aged children in Spain.
If your older schoolchildren have heavier loads due to homework, musical instruments, art projects, or after-school activities, you may want to consider trolley bags.
These carriers are common in Spain, where an estimated 40 percent of schoolchildren use them.
The maximum load of a trolley backpack should be about 20 percent of your child's total weight.
"For example, a girl or a boy whose weight is 110 pounds, the maximum recommended weight for their backpacks should be 11 pounds, and for trolleys, lower than 20 pounds," said Eva Orantes González, PhD, a research fellow at the University of Granada in Spain and a contributing study author.
Many people can remember carrying their too-heavy backpacks to and from school. It wasn't good for kids then, and it's not good for children now.
"The use of heavy backpacks has sometimes been related with back pain or neck and shoulder discomfort, and even with heaviness perception and increased fatigue," González told Healthline.
According to Dr. Bradley Weinberger, a pediatrician at the Cleveland Clinic in Ohio, carrying an overly heavy backpack can have the following adverse effects on your child's health:
increased risk of developing neck and back pain due to changes in posture and movement patterns
muscle soreness from the straps
negative effect on balance, potentially increasing the risk of falls or other injuries
Dr. Dina Kulik, FRCPC, PEM, the founder and director of Kidcrew Pediatrics, agrees. She lists "musculoskeletal pain, sore neck and shoulders, and poor posture" as common health risks of carrying an excessively heavy backpack.
"Users of school trolleys seem to have better feelings about the perception of weight, fatigue, and back pain while pulling their school trolley than backpack users," González said.
Kulik also spoke in favor of trolley backpacks, saying she "only sees advantages" with this alternative because it "takes weight off the shoulders and back."
However, Taylor Lyn Hanberry, a mother of two and a virtual assistant from Charleston, South Carolina, isn't convinced trolleys are the answer to traditional backpack weight concerns.
"Honestly, I probably won't switch to a trolley backpack because when I was in school I know it added to the bullying of students," Hanberry told Healthline. "I'm not going to add to what is already a big problem if I can help it."
There are also weather conditions, such as snow and heavy downpours, to consider.
They can make pulling trolleys on sidewalks or unpaved areas a challenge for many children.
If the trolley backpack system doesn't suit your child's needs, Weinberger suggests that "parents find a high-quality, low-weight backpack with adequately padded straps."
And parents should help their children reduce their backpack weight regardless. But how?
"Select a light backpack in itself. If the empty backpack is already heavy, try to find another lighter one," González said.
She also suggested the following strategies:
Pack only the essential school supplies in the backpack.
Use lockers on the ground floor of the schools.
Try to use electronic resources at home to avoid book transportation from school.
Kulik added a few extra tips to consider:
Take as few textbooks back and forth as possible.
Talk to the teacher about minimizing how much students are carrying around.
Try to keep unnecessary things in the locker or at home.
Carry a backpack on both shoulders, not just one.
Use a backpack on wheels.
Weinberger agreed.
"Children should be encouraged to use their lockers or desks to store items between classes," he told Healthline.
He added that students "should use both straps when wearing or using their backpack." These simple strategies can save a lot of pain in the neck.
Finally, Hanberry shared her personal plan for reducing her children's backpack weights.
Her strategy includes packing universal binders and doing a full clean out each week.
"Things can build up in there," she said.
How to Tell If Your Child's School Backpack Weighs Too Much, Source:https://www.healthline.com/health-news/how-much-should-your-childs-school-backpack-weigh
That was How to Tell If Your Child's School Backpack Weighs Too Much
That Was How to Tell If Your Child's School Backpack Weighs Too Much, Hopefully it's useful and you like it.
You are reading How to Tell If Your Child's School Backpack Weighs Too Much,Url address: https://www.dwibcc.org/2019/07/how-to-tell-if-your-childs-school.html