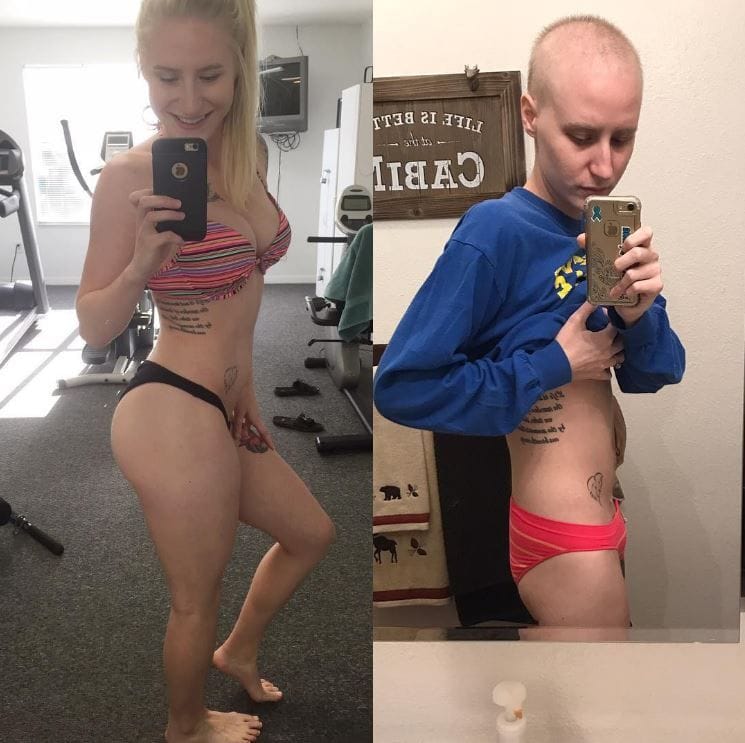 Life changed suddenly for female bodybuilder Cheyann Shaw when three weeks before her wedding she was filming a YouTube video in which she disclosed to the world that she is suffering from Ovarian cancer. She wrote
"I'm going to cry," she said in the video, "but — I was told that I have cancer."
Shaw was detected with stage 4 low-grade ovarian cancer. This is a rare but slow growing stubborn strain which is resistant to even chemotherapy treatments. She started her chemo sessions four months back and some times back only she realized that they are not working for her anymore. She even went on to shave her hair and filmed the entire video.
Recommended Read:
She has been diagnosed and re-diagnosed and since then she has moved from Florida to Washington to stay closer to her family, friends, and specialists. She underwent various surgeries to remove her reproductive organs, appendix, spleen and even part of her colon along with a tumor from her abdomen. And doctors have said that she still has cancer in her lymph nodes.
Recommended Posts
She was earlier a 130-pound bodybuilder and later declined to 102-pound cancer patient. But the lady is positive on her treatment.
She said
"doesn't mean you stop living."

"I decided to document everything right after I got diagnosed because I wanted to show people what cancer does to a body,"
she told The Washington Post last week.
She also wanted
"to show people that with a positive mind, you can beat this."
Shaw who is just 23 years old is an athletic girl. She used to play basketball, soccer, softball and even used to race BMX. Then three years back she got serious about her fitness. She started getting into bodybuilding competitions since last year only. And just before the last summer, she was prepping for her first competition when this crisis hit her.
She had some symptoms since last year only, but her doctors said it might be some torn abdominal muscles from working too hard. But when the pain became unbearable and she started making regular rounds to emergency departments, that was the time when she quickly came to know about the deadly Ovarian cancer.
"Today, August 3rd, 2016 is the day that has changed my life for the moment," she wrote on Instagram. "I found out today that I have been diagnosed with cancer. . . . I never in a million years thought this would happen to me, especially since I am only 23, but I know I will win this battle."

"I'm literally going to show you the good, the bad and the ugly," she said on YouTube, adding, "I'm literally showing you guys everything just so everybody is more aware of ovarian cancer because they do call it 'the silent killer.'"
Ovarian cancer is said to be an uncommon type of cancer among the 20,000 US women diagnosed every year. But this form of cancer accounts for the most number of deaths but still, it accounts for only 3% of overall cancer.
Regarding her future plans she shares
"After cancer, I definitely plan on doing more competitions and continuing to build my body because, obviously, I don't like where it's at now," she said. "But I love myself and I love my body because I truly believe that if my body wasn't where it was when I first began, I truly believe I'd be a lot weaker than I am now. So definitely, bodybuilding has saved me."
That was 23 Year old Female Bodybuilder suffers from Ovarian Cancer
That Was 23 Year old Female Bodybuilder suffers from Ovarian Cancer, Hopefully it's useful and you like it.
You are reading 23 Year old Female Bodybuilder suffers from Ovarian Cancer,Url address: https://www.dwibcc.org/2019/06/23-year-old-female-bodybuilder-suffers.html