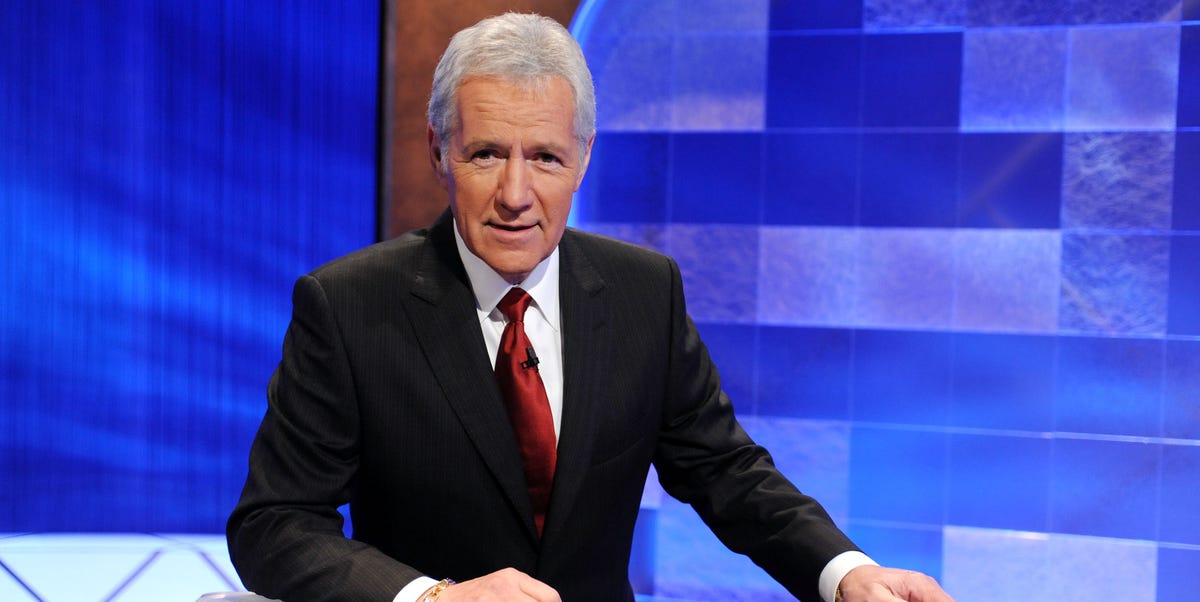 Jeopardy! host Alex Trebek has given an update on his health in recent interviews.
Trebek, who revealed his stage 4 pancreatic cancer diagnosis in March, says he is "fighting through" his chemotherapy, but has experienced surges of "deep sadness," as well as hair loss and severe abdominal pain.
Doctors explain why some patients choose to keep working as they undergo cancer treatment and what side effects they may face.
---
When Jeopardy! host Alex Trebek revealed his stage 4 pancreatic cancer diagnosis back in March, he returned to filming the show less than a week after his stunning announcement. Trebek, 78, vowed to be back to work quickly, and apparently he meant it. During the last day of taping the current season of the trivia show, Trebek gave an update on his health, emphasizing that he isn't slowing down any time soon.
"Despite what you may have heard, I'm feeling good, I'm continuing with my therapy and we, by we, the staff, is already working on our next season, the 36th year of Jeopardy!. I look forward to seeing you once again in September with all kinds of good stuff," he said in a video posted to the official Jeopardy! Twitter account.
Now, in a new interview that will air on CBS Sunday Morning on May 12, Trebek will open up about the painful stomach cramps he endured during the beginning of his treatment, as well as the hair loss he experienced due to chemotherapy. "I taped the show, and then I made it to the dressing room on one occasion, just barely, before I writhed in pain and cried in pain," he said in the interview, per People. "The producers were very kind. They said, 'Look, if you—If you don't want to do the show—we'll just cancel taping.' I said, 'No. We're here. We're doing the shows.'"
In a recent interview with Good Morning America, Trebek also touched on other side effects he experienced during chemo, including surges of "deep sadness." Still, the beloved trivia host insists that things are looking up. "I'm fighting through it. My platelets, my blood counts are steady. My weight is steady... The cancer indicators, those are coming down," he told Robin Roberts on the show.

According to the American Cancer Society (ACS), people diagnosed with stage 4 pancreatic cancer (the most severe form of the disease) usually have a 3 percent five-year survival rate. "I plan to beat the low survival rate statistics for this disease," Trebek said in his first video announcement, before joking that "I have to because under the terms of my contract, I have to host Jeopardy! for three more years."
Jeopardy! typically does two production days a week, filming multiple episodes in a row, CNN says. That makes for long work days for anyone, let alone someone undergoing treatment for stage 4 cancer. So, how is it possible? Here, doctors explain why some patients choose to keep working as they undergo cancer treatment and what side effects they may face.
How common is it to keep working while undergoing cancer treatment?
It ultimately depends on the patient. Everyone handles this kind of diagnosis differently, says Vinod M. Varki, MD a medical oncologist and hematologist at Medical Oncology and Hematology at Mercy in Baltimore, a division of The Institute for Cancer Care at Mercy. "Getting the diagnosis is obviously very traumatic and scary, and advanced pancreatic cancer is a very tough disease to beat," he says.
Doctors typically recommend that a patient undergoes chemotherapy if they're willing and strong enough, and that they start it ASAP, Dr. Varki says.
What are the side effects of chemotherapy?
"It varies," Dr. Varki says. Chemotherapy drugs work by killing fast-growing cells, which include those that are cancerous and those that are healthy, he points out.

Damage to those healthy cells can cause side effects like fatigue, hair loss, easy bruising and bleeding, infection, nausea and vomiting, anemia, diarrhea, mouth, tongue and throat problems, and weight changes, the ACS says. But everyone experiences chemotherapy differently—some may have many side effects, while others will notice fewer side effects. "Some people are able to go back to work if they have minimal side effects," Dr. Varki says.
Often, chemotherapy is most difficult at the beginning. That's especially true for people with cancer as advanced as Trebek's. "Once you have stage 4 cancer, you're on chemotherapy for the rest of your life," Dr. Varki says. "But, once patients get treatment, they often adjust to this new normal and may be able to work."
Dr. Varki wants other people who have stage 4 pancreatic cancer to know that it's a "very tough and very difficult" illness. But, he adds, "there are treatments that can keep the cancer at bay."
How is Alex Trebek doing during cancer treatment?
Trebek admits that he has experienced several side effects during chemotherapy. In fact, he told CBS Sunday Morning he had to wear a hairpiece during certain tapings of Jeopardy!, and that he challenges viewers to spot the difference in future episodes. "On air I'm told that there were times when the hairpiece looked better than my real hair," he said. "So we'll see how people react to that."
"We have the summer months off. So hopefully my own hair will grow back," Trebek added. "Because I like my own hair."
In addition to hair loss, Trebek revealed that he had to deal with agonizing stomach cramps during the start of his treatment, which usually lasted 10 to 15 minutes and left him "writhing in pain" in his dressing room. Chemotherapy can cause dull or sharp abdominal pains and cramping, since the drugs can interfere with intestinal activity and bacteria, according to the UNM Comprehensive Cancer Center.
Trebek also revealed on Good Morning America (GMA) that undergoing chemotherapy has led to dramatic mood changes. "My oncologist tells me I'm doing well, even though I don't always feel it. I've had kidney stones, I've had ruptured discs, so I'm used to dealing with pain. But what I'm not used to dealing with, is the surges that come on suddenly of deep, deep sadness—and it brings tears to my eyes," he said on the show.
"Chemo affects people in different ways, and people have to understand that. There's nothing wrong with saying 'Hey, I'm really depressed today and I have no idea why.'" he added. "The chemo takes it out of you. I mean, I feel so weak all the time, and that's not a good place to be."

However, Trebek told GMA the wave of positive support has made all the difference. "I'm an extremely lucky individual, because in spite of the fact that this diagnosis is not a good one, I have managed to receive so much love from so many people."
---
Stay updated on the latest science-backed health, fitness, and nutrition news by signing up for the Prevention.com newsletter here. For added fun, follow us on Instagram.
That was Alex Trebek Says He's "Fighting Through" His Cancer Treatment
That Was Alex Trebek Says He's "Fighting Through" His Cancer Treatment, Hopefully it's useful and you like it.
You are reading Alex Trebek Says He's "Fighting Through" His Cancer Treatment,Url address: https://www.dwibcc.org/2019/05/alex-trebek-says-hes-fighting-through.html