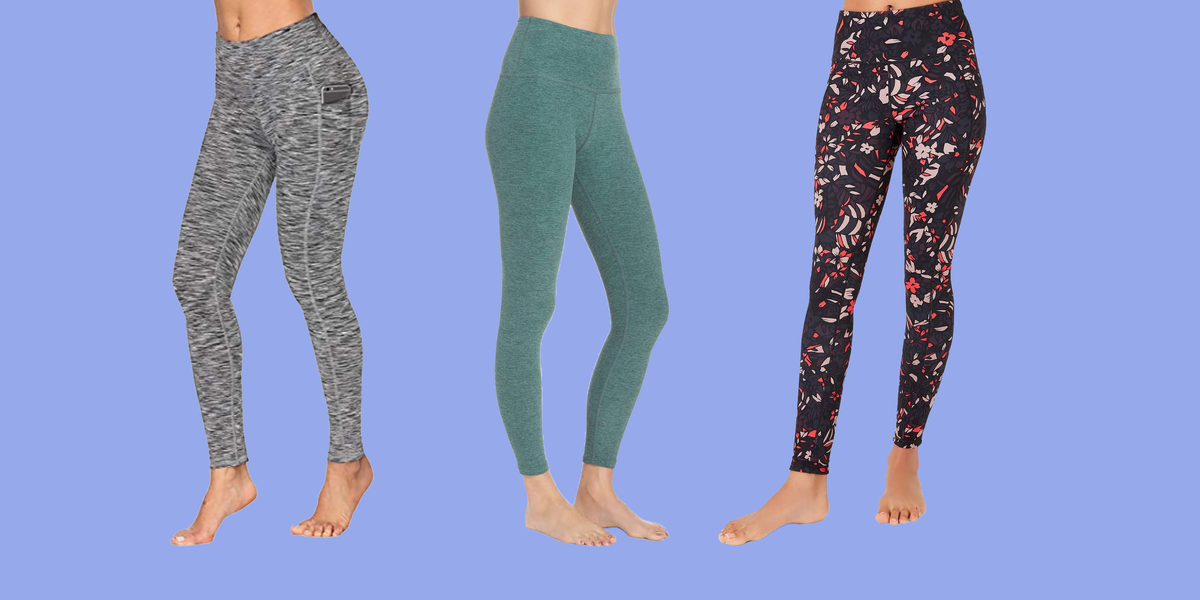 Flowing from downward facing dog to plank to happy baby with ease means you need a pair of yoga pants that moves as well as you do. But the conundrum many yogis face is finding a pair that's snug enough to let you hit every pose without feeling restricted or having to pull your pants back up. (And oh yeah, they also need to be comfy enough to lounged around the house in!)
Thankfully, you can find just that in these leggings, which were hand-picked by top yoga instructors who know exactly what makes a good pair of yoga pants. Try them for yourself the next time you want to get your Om on.
1 Elevation 7/8 Tight In Powervita™
Athleta
athleta.gap.com
$89.00
Lisa Samuels, a registered Hatha yoga instructor and founder of The Happie House, is a big fan of these yoga pants. "As a plus-size yogi, finding leggings that fit right and don't roll down during my practice is essential," she says. These leggings do just that. Plus, the mesh detailing nicely contour your legs, offering a slimming effect and breathing room to get you through a sweaty flow.
2 Midi High-Waist Leggings
BEYOND YOGA
nordstrom.com
$97.00
The wide elastic waistband and figure-hugging fabric of these leggings ensures they'll take you from Warrior I to II with ease—which is why Kirsten Trued, a yoga teacher trainer at Om Factory and coach at Uplift Studios, swears by them. "I can wear them all day long and they stay put through any class, so I don't have to worry about pulling them up mid sessions," she says.
3 Barefoot Leggings
Niyama Sol
amazon.com
$88.00
"What I love about the Niyama Sol yoga pants is the fabric," says Katelyn DiGiorgio, vice president of training and technique at Pure Barre. Made from recycled plastic bottles, the material has moisture-wicking, anti-bacterial qualities. Plus, "the high waistband also makes them very comfortable, and they have just enough compression to help you feel 'lifted' through the backside," DiGrigio says. Prefer a different pattern? These leggings come in eight designs and five different sizes.
4 Align Pant
Lululemon
amazon.com
$138.00
Trainers can't stop raving about these high-waisted leggings. "They're buttery soft, comfortable, lightweight, sweat-wicking, and always look and feel amazing," says Casey Anderson, an instructor at Y7 studio. Bonus: There's a waistband pocket, where you can stash your keys and wallet. (Looking for more leggings with pockets? Check out these cute options.) 
5 Wunder Under III Full-On Luon Yoga Pants
Lululemon
amazon.com
$108.00
Feel secure in these Lululemon tights—an easy staple to add to your regular workout legging line-up. "I never have to worry about these pants moving around while I teach class," says London Durand, a CorePower Yoga area leader and instructor.
6 FEIVO Women's Power Flex Yoga Pants
FEIVO
amazon.com
$15.99
With four stars and more than 1,000 reviews, these no see-through, moisture-wicking leggings are the perfect pair for a hot yoga sesh. The elastic waistband and stretchy fabric gives you freedom of movement, while the mesh panel along the calves and thighs helps you air things out in areas where you heat up the most.  
7 High-Waist Out Pocket Yoga Pants
ODODOS
amazon.com
$19.98
These highly rated, best-selling yoga pants are not only affordable, but they look great on every body type, too. The four-way stretch ensures you can comfortably flow from plank to crow, and the dry-wicking fabric soaks up sweat. They also features a convenient side pocket for your phone. An Amazon reviewer says, "The material provides good coverage where the underwear and lines don't show through. The compression is not bad—not too tight—and definitely not loose. The material is also comfortably soft and wicks moisture away nicely."
8 High-Waist Yoga Pants
Fengbay
amazon.com
$14.99
These yoga pants won't break the bank, but that doesn't mean they lack quality. Another top choice for Samuels, she says "the materials are also breathable, so they don't feel like they're clinging or like they're trapping sweat." To top it off, they have a convenient side pocket, ideal for those who like to head to the studio sans bags.   One Amazon reviewer says, "My Galaxy S5 in a generous-sized cause fits easily into the deep pockets and stays nestled there for an entire jog with no bouncing around." 
9 High-Rise Blackout Full-Length Leggings
Gap
gap.com
$45.00
These yoga pants make it easy to transition from day to night. "The high-waist is flattering even if I'm not feeling my skinniest on a given day, and it also helps them stay in place so I'm not spending every mountain pose hitching my pants up," says Rebecca Weible, founder of Yo Yoga!. "While solid black isn't the most creative, it's easy to throw a sweater and some boots over them for a cute après-class style."
10 Graphic High Rise Leggings
ONZIE
nordstrom.com
$76.00
If you like a silky feel, slip into these Onzie tights, STAT. They feel light and smooth against the skin, while still offering a flexible fit. Even better, you can opt for a vibrant design to brighten your next studio outfit. One Nordstrom reviewer says, "Whether in a yoga class, running errands, or sitting to brunch, these [leggings] are both functional and fun. I am mostly a size 4 and order smalls or mediums. The small in these fit perfectly, with room to stretch a little, yet hold it all in!" 
11 Plus Size Active Mesh Panel Leggings
Forever21
forever21.com
$24.90
For curvier women who need more coverage around their waist, Forever21's plus-size activewear line has plenty of affordable options. "These fit like a glove—they have a high-waist that doesn't roll down, and doesn't create a muffin-top, so they always look cute," says Samuels. The shear panels also add a fashionable detail, while the black hue works for any activity—studio, office, or otherwise.  
12 Reversible Yoga Leggings
Sweaty Betty
nordstrom.com
$120.00
Consider these leggings a two-for-one deal: On one side of these tights, you have a pretty, bold pattern and then flip 'em over and you get a plain black pair. Both options are super stretchy and extra soft—perfect for any pose you hold in class. One Nordstrom reviewer says, "I bought these leggings for yoga and have not been disappointed. Fit is great with a high waist, making inverted poses less revealing."
That was These Yoga Pants Are So Comfy, You'll Basically Want to Live In Them
That Was These Yoga Pants Are So Comfy, You'll Basically Want to Live In Them, Hopefully it's useful and you like it.
You are reading These Yoga Pants Are So Comfy, You'll Basically Want to Live In Them,Url address: https://www.dwibcc.org/2019/03/these-yoga-pants-are-so-comfy-youll.html